Dining at Civitas Senior Living
The steam cascading from a boiling pot. The aroma of meats and spices in the air. The sound of a sizzling pan and bountiful laughter. Upon entering a home, it's evident that the kitchen is its heart and soul, and your home at Civitas Senior Living is no different. After all, making our residents feel loved is our number one priority, and few things demonstrate more care and tenderness than offering a carefully planned and savory meal. With our delectable food menu, we hope to nourish our residents with every bite – mind, body, and soul.
At Civitas Senior Living, food isn't just about providing healthy meals for seniors – it's about building community. What better way to strengthen your bond than by breaking bread together? Make new friends and memories at our Themed Dinner Program. Celebrate the joy of another year around the sun with your friends and family at My Birthday Meal. Take part in the cooking action and engage with our cooking professionals at a cooking demonstration. Our Passionate Dining Experience means that at Civitas Senior Living, passion makes the difference in cooking and in life.
COMMUNITY SIGNATURE DISH
To keep life exciting and empower the senior living dining experience, residents have the opportunity to help choose the upcoming Community Signature Dish. Once a quarter, four-to-five new dining menu options are added to the Chef Selections menu. Through a secret ballot process, residents vote for their favorite dish, and the winning dish is added to our Chef Selections bill of fare.
FOOD MENUS
Food is our cooking professionals' love language, so it's no wonder they take such great care in crafting the ideal senior living menu with you in mind. Variety is the spice of life, and you'll be sure to find an abundance of senior dining options. Our diverse meal options are made with the freshest and finest ingredients to satisfy your taste buds. Whether you're in the mood for comfort food or want to sit back and relax with a hot cup of tea, you'll be sure to have menu choices to satisfy any craving.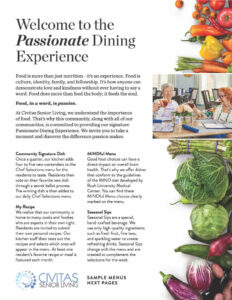 Mindful Menu
Good food satisfies your belly and has the ability to support a healthy brain function. Our carefully crafted MINDful Menu dishes conform to MIND diet guidelines – developed by the Rush University Medical Center – to enhance your continued brain health. For ease and accessibility, you can find these MINDful Menu choices clearly marked on the menu.
Seasonal Sips
Seasonal Sips are made from high-quality ingredients such as garden-fresh fruit, sparkling water, and quality teas. These refreshing beverages are meticulously crafted to invigorate your taste buds and awaken your senses. Made to accompany the delectable dishes on the senior dining menu, these hand-crafted drinks will complement each dish's fine notes and insatiable flavors. Seasonal Sips are updated each week for your dining pleasure.
COOKING DEMONSTRATIONS
Cooking Demonstrations are a wonderful way for our residents to engage with the cooking process. Led by our community's enthusiastic dining professionals, these demos offer residents an interactive way to experience the joy of cooking and relish in – what is for many – a lifelong passion in culinary arts.
The demonstration is followed by a number of other fun and engaging activities. Residents are encouraged to sample the dish, participate in a Q&A session, provide their own culinary expertise by suggesting recipes, and take a copy of the day's recipe back to their apartment. Our dedicated Food and Beverage Team is always keen to adapt to our residents' tastes and culinary interests. There is no limit to what their refined taste palate can dream up with so many knowledgeable and sophisticated residents!
MY RECIPE
We take pride in our seasoned and worldly residents who have a lifetime of experience to enrich our dining community. That's why we developed My Recipe, a wonderful opportunity for our residents to benefit from each other's unique and personal recipes. Our cookhouse staff tests out the recipes and selects which ones will appear on the menu. Each month, at least one resident's distinctive recipe is featured for the delight and enjoyment of our entire senior living dining community.
MY BIRTHDAY MEAL
Our staff treasures our residents, so birthdays at Civitas Senior Living are an extra-special occasion. The festivities are kicked off by cooking the resident's favorite meal. Of course, no birthday would be complete without a special delicious treat and singing "Happy Birthday" to celebrate their new year. Friends and family are invited to the bash to add to the merriment and joy of the day.
THEMED DINNER PROGRAM
Our Themed Dinner program provides several festive occasions for our residents to enjoy a multi-tiered meal and create new memories throughout the year. Our residents take joy in a night of excitement, entertainment, and fostering community. Themed Dinners are inspired by holidays, celebrity birthdays, international cultures, world news, and community events. Life is about celebrating the fun moments, and with our Themed Dinner Program, there's no shortage of opportunities!
WEEKLY CHEF FEATURE
Mealtime is a particularly special occasion at Civitas Senior Living, where residents enjoy scrumptious, made-to-order food and cherish conversations with neighbors and our adoring staff. Interactive culinary experiences make mealtime especially exciting, and Weekly Chef Feature is a favorite among our residents. Once a week, our community chef joins us in the dining room for a memorable meal-prep experience.
The Chef creates mouthwatering and customized dishes right in front of residents for a truly charming and singular dining experience. Families and loved ones are invited to visit and participate in the fun so everyone can enjoy the fabulous food. From discussions about cooking techniques to the camaraderie enjoyed over personalized and delectable food, the Weekly Chef Feature is a fantastic way for neighbors, friends, and families to build bonds while enjoying a fantastic meal!
Contact us today to learn more about our dining options and all that Civitas Senior Living has to offer!