Alexis Pointe celebrated the 22nd annual Wimberley Butterfly Festival in a unique, fun way. The community released butterflies that they lovingly raised during the festival at 9 a.m. on Saturday, April 23.
A Community Effort
In partnership with the EmilyAnn Theater & Gardens, Alexis Pointe Senior Living residents have been raising caterpillars into butterflies, which they released at the festival. Residents and guests have been able to see their metamorphosis in the community's front lobby, just to the left of the fireplace.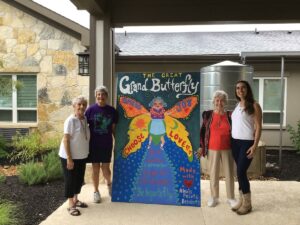 Katy Starr, Community Relations Director, thanks Ann Rolling for donating caterpillars and art projects. She shared, "Residents are loving watching the caterpillar to butterfly life cycle. It's a magical transformation to watch!"
Resident Jack Roach has enjoyed learning more about butterflies throughout the project. "I had no idea they liked to drink grape Gatorade! That is apparently the preferred flavor the butterflies drink once they hatch from the chrysalis stage," he remarked.
Resident Carole Malone who loves to attend the festival shared that she is very moved by the remembrance ceremony that takes place when the butterflies are released each year. "They release the butterflies and you can see everything from the top of the hill. I love watching all the young children running around the gardens with the butterflies. It's really beautiful!"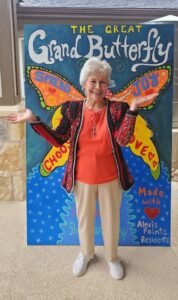 Attendees who visited the festival could also see the fun and vibrant "Great Grand Butterfly" mural that Alexis Pointe residents made as a much-needed creative escape in 2021. The collaborative and unique art project featuring a trendy Granny with butterfly wings was then donated to their friends at EmilyAnn.
Alexis Pointe welcomes members of the local community to come see their butterflies, take some fun photos with the mural, and appreciate the spring weather.
Pictured with the mural are (photo 1 from left) Janey R. (resident), Ann Rolling (founder of Emily Ann Theatre and Gardens), Carmen B.(resident), and Katy Starr (Community Relations Director). (photo 2) Carmen B.(resident).
Learn More About Alexis Pointe
Our creative, vibrant, community offers independent living, assisted living, and memory care options for seniors in the Wimberley area. Come live your best life here. Contact us to learn more.