The North Central Texas Chapter of the Alzheimer's Association announced that this year's Walk to End Alzheimer's will be celebrating their 30th year of raising funds to find a cure for Alzheimer's disease.
On October 29, 2022, the walk takes place at The Shops at Clearfork in Fort Worth. Registration for the walk is now open, and everyone is encouraged to organize a team or find one to join.
The Ridglea Senior Living is an Assisted Living and Memory Care community in Fort Worth. Our team shares a tight bond with the North Central Texas Alzheimer's Association and enjoys all of the opportunities we get to raise funds for research. We wanted to reflect on some of our favorite memories, highlight upcoming events, and encourage you to join our team in the fight to find a cure for Alzheimer's.
What is Alzheimer's care?
Alzheimer's affects over six million people in the United States. Nearly 11 percent of seniors live with this form of dementia, and by 2050 that number is expected to double. Alzheimer's care, also known as Memory Care, is a specialized senior care service that provides relief.
The Cottage at The Ridglea is our secure and comforting Memory Care community. Our specialized care team takes the burdens of dementia support away from family members. Memory care allows families to enjoy quality time with each other and avoid experiencing caregiver burnout.
Alzheimer's care at the Ridglea Senior Living provides:
A smaller resident-to-caregiver ratio
Memory enhancing games and exercises
Licensed nurse oversight
Personalized activities of daily living assistance
Individualized activities
Mind-healthy meals
Purposeful and sensory enhancing projects
Pet therapy
How does The Ridglea Senior Living support the Alzheimer's Association?
The Alzheimer's Association started in the 1980s when little was known about what is now the most common form of dementia. A small group of family caregivers established the organization to unite and support people experiencing Alzheimer's either directly or through a loved one.
Today, the Alzheimer's Association is the leading organization in finding a cure. While there is currently no cure, the association says, "The first survivor of Alzheimer's is out there, but we won't get there without you."
Donations and fundraising support Alzheimer's research, and in 2021, the coalition raised over $384 million towards finding a cure. The Ridglea Senior Living is a happy participant in many of these events.
National Hamburger Day
One of the biggest perks of living at The Ridglea is the chef-prepared meals. We get incredibly excited when we can share our delicious food with people outside of our community.
We use National Hamburger Day (May 28) as a day to raise funds with delicious food. This celebratory event is a fantastic warm-up to The Longest Day.
The Longest Day
The summer solstice is the day with the most light. It represents when we can illuminate Alzheimer's and remove the darkness surrounding it.
People worldwide use this day to celebrate a variety of fundraising events. Some climb mountains or host karaoke competitions to raise money for research and awareness. Last year's fundraising efforts at The Ridglea got a little wild.
Little Sparkle stole the show while our community held a bake sale and raffle to help find a cure. Contact us by calling (817) 813-9431 or follow us on social media to learn about our Longest Day event for 2022.
The Walk to End Alzheimer's
Over 600 communities nationwide organize fundraising walks in the fall. The Ridglea Senior Living enjoys starting our day with a special brunch for our dementia care residents before team members head off to participate in the walk.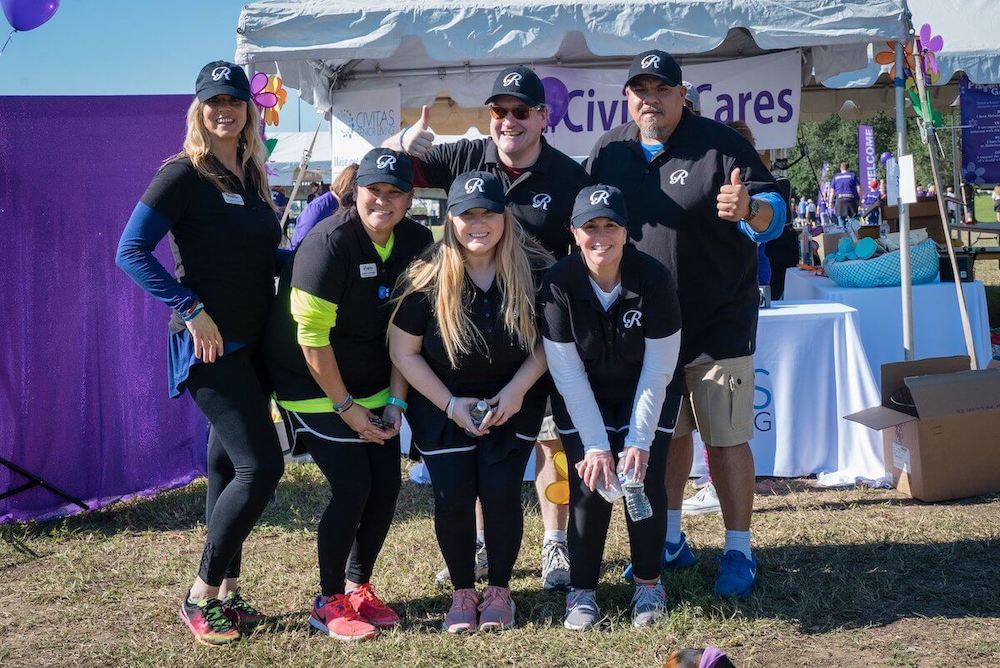 Last year all of these communities raised $86 million during The Walk to End Alzheimer's. We can't wait to be a part of this monumental 30th-anniversary event in Fort Worth and get one step closer to finding the first survivor of Alzheimer's.
Find Alzheimer's Care in Fort Worth, Texas and Join in Finding a Cure
For Alzheimer's care, Fort Worth families can find comforting care at The Ridglea Senior Living. To learn more about our approach to care or how to join our efforts in supporting the Alzheimer's Association, contact us.