Retirement communities in Texas like The Hamptons of Tyler and Arabella of Longview offer senior couples a modern home to celebrate their love.
Live in beautiful maintenance-free living spaces and enjoy plenty of opportunities to dance in our communities. We offer older adults the ideal environment where love can evolve and endure. Continue to date your mate with amenities like:
Chef-prepared dining
Private dining room
On-site theater and salon
Outdoor patio and walking paths
Lounge, library, and game room
Community transportation
Group wellness training and fitness center
Imagine how independent living or assisted living can offer you and your partner the perfect place to celebrate your relationship.
Why are Retirement Communities in Texas Great for Couples?
Civitas Senior Living communities provide a daily chance for a romantic getaway. No matter the lifestyle, our team removes the hassles of life to free up time for activities and relaxation.
Choose the lifestyle that's best for you:
Independent Living: Contemporary senior housing, social events, and housekeeping make independent living the ideal way to spend retirement.
Assisted Living: Senior care services make continuing an independent lifestyle possible.
Memory Care: People living with Alzheimer's and dementia can find relief in our secure and family-style memory care neighborhood: The Cottage.
Providing three levels of care makes aging in place much easier for you and a loved one. Whether you want to live in our community to stay socially active with other couples or you would like assistance with daily living activities, our team is here to provide personalized care.
New independent and assisted living residents enjoy the variety of floor plans available in our communities. These bright and spacious apartments include plenty of space to celebrate your love. Have fun decorating with that special someone in your life.
If you're a senior planning to retire in Texas, active adult communities like these can give you all the tools to live a happy life. Take an adoring look inside of two Civitas Senior Living communities with a lens of love.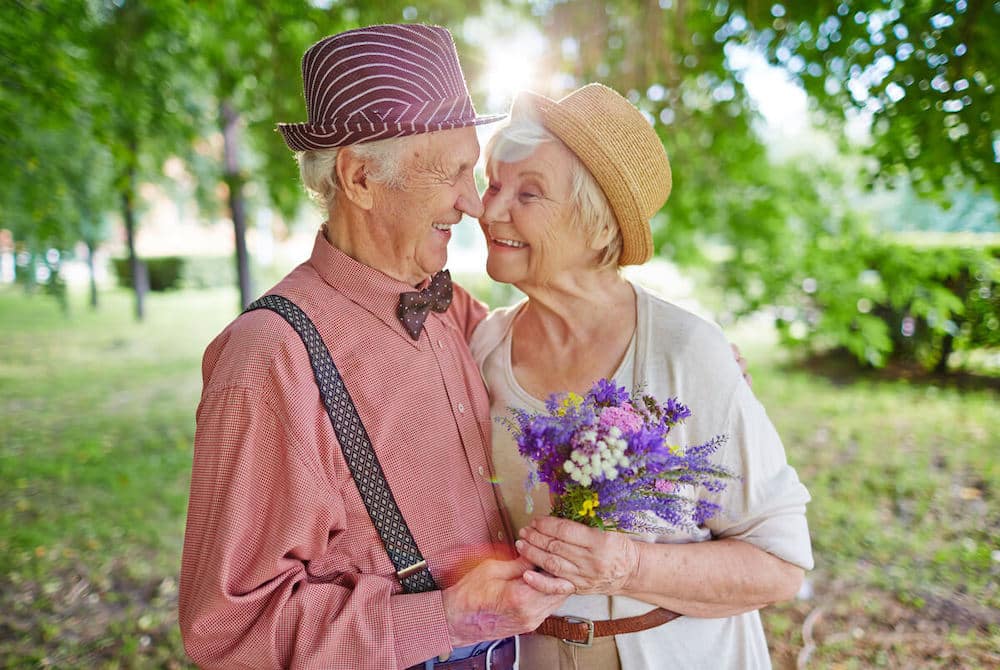 Love is Working Together
The Hamptons of Tyler in Tyler, TX recently celebrated the 75th wedding anniversary of Joe and Norma. Their love sparked on a car cruise through their hometown, followed by Joe's cruise around the world in the Navy.
The pair kept in touch via love letters, but she reminded him,
"You can't tell me what to do if we aren't married."
Joe took that advice and married Norma. They worked together to run a successful grocery store and raise four children. The couple says the key to a long and successful marriage is running a business as a partnership.
"Work hard to make a living together," says Joe. With 75 years of experience, he might just be right.
Love and Coffee in the Lone Star State
It sounds like a movie, but independent living love birds, Jim and Ruby, met at the Lone Star Drive-In in Fort Worth, Texas.
Following a long day as a railroad engineer, Jim stopped in for a cup of coffee which was served to him by Ruby. He couldn't stop thinking about her, and after two months, he popped back in for another cup of coffee and worked up the courage to ask her on a date.
The couple married two years later and are now celebrating a nearly 60-year relationship. Ruby says she still enjoys serving him coffee and owes her marriage to praying together every day.
They now call Arabella of Longview home, and we always make sure to keep a pot of hot coffee around for these two.
Love Will Travel
Minnie and Clyde found their love as kids in Liberty, Texas. Minnie headed off to college while Clyde got his career started. Every weekend Clyde would drive three-and-a-half hours to visit his sweetheart. A week after college graduation, they were married.
Two children and nearly 62 years later, they now happily reside at The Hamptons of Tyler in Tyler, TX. Minnie says she can't imagine life without her sweet Clyde. We can't imagine our community without these lovebirds either.
A Strong Foundation For Love
Geraldine says the secret to staying married so long is to "marry a sweet man who is gentle and kind." She met her sweet man, Cleve, at a Christian picnic in college. They bonded over Bible study dates and promptly got married.
"He's the most romantic man, and he loves to look at our wedding album,"
says Geraldine. They were married in the summer of 1957. Their home at The Hamptons of Tyler proudly displays a photo of them dancing right next to a tree of their favorite Bible verses.
Picture-Perfect Love
LaJuan and Dwayne met through a mutual friend while attending Texas Wesleyan University. Their love moved quickly, and they eloped in the summer of 1959. They ended up having a formal wedding a couple of months later.
These two have lived the ideal life together for a long time. LaJuan ended up as the school nurse where Dwayne was the principal.
They have two children, and Dwayne lets us in on the secret to a happy marriage,
"Marry a good woman and show her love every day."
They enjoy their retirement at The Hamptons of Tyler senior living in Tyler, Texas.
Living the Dream
Edna and Lee are living their dream at The Hamptons of Tyler. It's a dream that's been in the works for 65 years. Edna's carefree spirit has mellowed out her other half, even after raising three kids.
"Say yes, ma'am, and meet in the middle of things"
Is Lee's recipe for success in marriage. We couldn't agree more with Lee's advice.
A Great Dance
It all started over 67 years ago with Jim and Eleanor. They met in college, and it was love at first sight. Their first date was at the Woodchoppers Ball.
Jim proposed to Eleanor over a cup of coffee, and they got married right after college in June of 1954. They went on to have two children.
Jim was an avid golfer, and Eleanor says she "became a golfer's widow" with a laugh.
The key to a good marriage is a good partner, so Jim traded in his golf clubs for dancing shoes.
"One day, Jim came home from the golf course and said he was giving up the sport so we could take ballroom dance lessons."
Maybe it was Jim's competitive nature, but the two got so good at dancing they started teaching lessons together. Eleanor says their life has been a great dance. We are happy that Jim and Eleanor are enjoying life at Arabella of Longview, and we appreciate them so much.
Celebrate Your Love in Senior Living in East Texas
Take a virtual tour of The Hamptons of Tyler or Arabella of Longview and start planning for your future. Use the contact link on either website to arrange a personalized in-person tour.