If you really want to enjoy your retirement, you're probably thinking about all of the tasks you'd like to take off of your to-do list. Now is the time to put yourself first and stop worrying so much about doing the laundry, cleaning the house, managing all the upkeep and home updates, grocery shopping, and cooking dinner.
Live More, Worry Less
One of the best things about retirement communities is that you can put that to-do list to rest. Consider all the benefits of Legacy Oaks of Azle. Assisted living services assure that your new senior apartment is beautiful, decorated to your liking with the furniture and keepsakes that you love most, and your care and daily needs are taken care of. Let that long worrisome to-do list become a thing of the past.
Days get a little bit easier knowing that you have access to:
Housekeeping and personal laundry service
Knowledgeable, compassionate staff on-site 24-7 to help with bathing, dressing, grooming, transferring, and incontinence care
Licensed nurse available
Medication management
Personal medical alert system to ease your mind
On-site physical therapy
Scheduled transportation
In addition, you'll have the benefit of a premier dining program
Imagine relaxing on the couch with your small dog or cat (we're pet-friendly) and thinking about what you'll have for dinner. It's something we have to think about every day. Maybe you're accustomed to having to cook for yourself and you really wish someone else could handle that for you.
At Legacy Oaks, our dining team takes care of your dining needs and prepares the freshest, tastiest dishes with the finest in-season ingredients so that you don't have to. Here, senior dining choices are varied and personalized.
For us, food is not just fuel, it's joy, culture, family, identity, and friendship. We love food and put that passion into curating dishes for you. Our menus are creative, delicious, memorable, and served with a smile. Our dining staff handcrafts each experience to feel like a multi-star restaurant every time.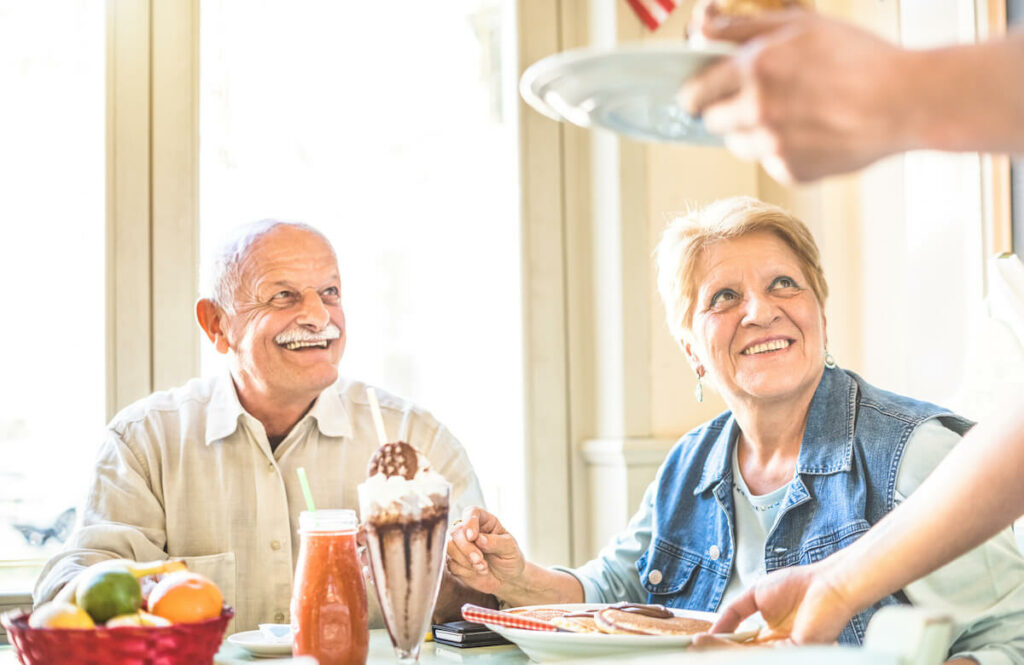 Your dining experience includes:
Restaurant-style dining, three times a day
Outdoor kitchen and patio area for dining and gathering
Coffee shop with light snacks and beverages
Private dining room
In-room dining options
Personalized menus
Through the My Food program, we encourage residents to personalize our menus. We want your feedback so that we can make your dining experience as pleasurable as possible.
We also offer many ways to gather with friends and family to enjoy great food and conversation. We welcome you to dine with loved ones, who are always welcome.
Residents rave about dishes like balsamic glazed salmon, herb crusted ribeye, and banana cream pie. View a sample menu and decide what you'd like to try first!
Fun with friends
We're always having fun dining with friends on special occasions, trying new bites, and planning our next get-together. As an assisted living resident, there are so many options for enjoying company and planning activities. You can find us:
Of course, we're always happy to fill up on a good breakfast before we get started for the day.
At Legacy Oaks of Azle, residents have the assurance that their needs are met and time can be spent participating in activities, relaxing, and enjoying the tasty, nutritious dining options that our team works tirelessly to create.
Isn't it time to enjoy life a little more?
Welcome to freedom, fun, food, and friends! With Legacy Oaks of Azle, assisted living means more choices and fewer hassles. Let us take care of the cooking and cleaning and you can get back to enjoying retirement. Contact us today to learn more.