Memory Care, a vital component of overall senior care, is a specialized type of care that aims to enhance the quality of life of seniors with cognitive impairments whose daily routines are difficult to maintain. At The Bluffs of Flagstaff, we make seniors' lives easier, regardless of their conditions.
Keep on reading to find out more about our community's Passion Program.
Comprehensive Memory Care Services
The Bluffs of Flagstaff's Memory Care is designed to cater to residents with a wide range of cognitive impairments, including various forms of Alzheimer's and dementia. Personalized care plans are created for each resident to ensure they receive the assistance they need with bathing, grooming, dressing, and medication management. The community also provides a secure and safe environment to prevent wandering or any other behaviors that could pose a risk to the seniors' safety.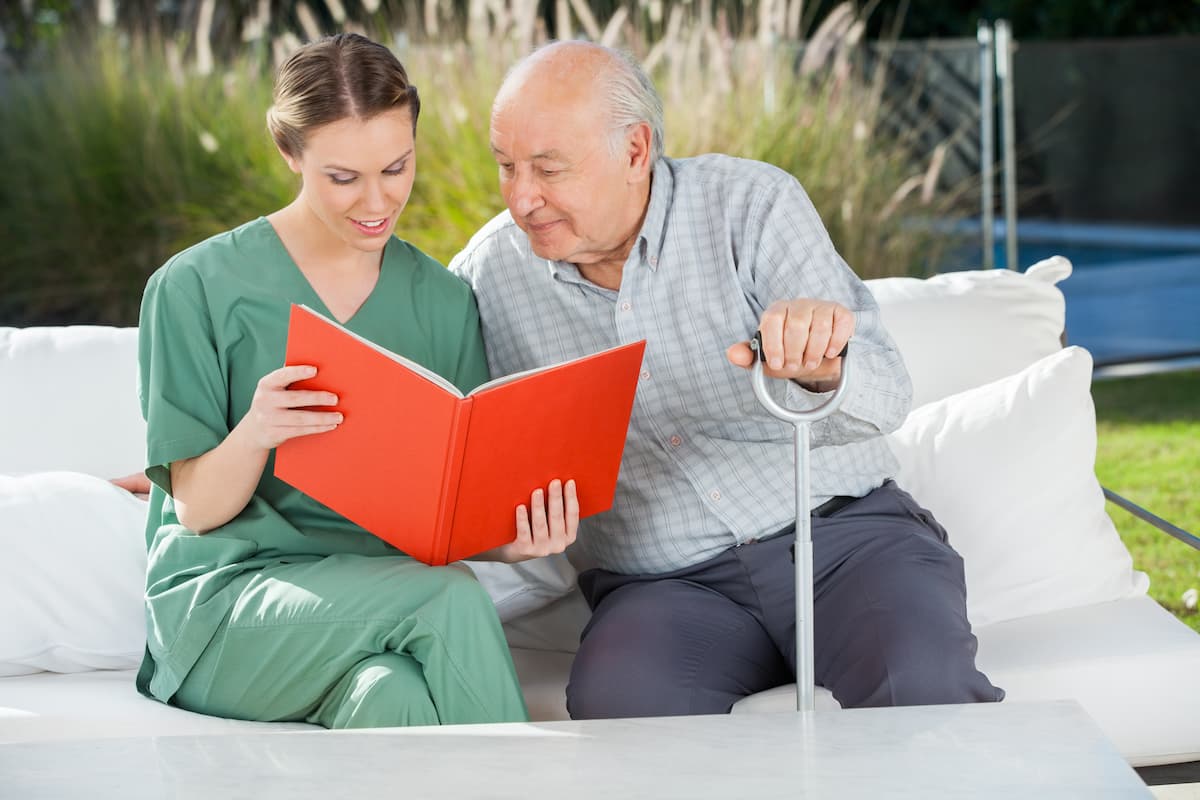 Your Search for Memory Care Programs Ends Here: The Passion Program
The Passion Program at The Bluffs of Flagstaff is an innovative wellness and lifestyle program for seniors that enhances our specialized Memory Care. This programming for memory care is designed to enhance the seniors' lives by providing individualized physical, social, and emotional support.
The Passion Program includes a variety of stimulating activities such as art and music therapy sessions, games, physical exercise, and outings. Specifically, we offer:
My Wellness
My Wellness facilitates the connection between our residents, their families, and our dedicated Wellness Team. This program enables the Wellness Team to understand and cater to the desires and requirements of each resident, ensuring a wholesome and fulfilling lifestyle. It includes My Wellness Agreement, My Service Agreement, and My Care Conference.
My Food
At The Bluffs of Flagstaff, we recognize that food encompasses more than mere nutrition; it is an immersive journey that has a central role in our lives. With the My Food program, we offer our residents tailor-made culinary adventures on a daily basis. My Food programming for memory care may involve My Recipe, My Community Signature Dish, My Birthday Meal, and other special occasions.
My Passion Pathway
Our heartfelt approach to connecting with each resident starts with My Passion Pathway. A unique program among Arizona senior communities, it's designed to enhance their lives by helping us celebrate their stories, meet their daily wellness needs, and provide a reality of life that meets their unique visions. My Community Ambassador, Passionate Welcome, and Intergenerational Life Program are just a few of aspects of My Passion Pathway.
My Activities
At The Bluffs of Flagstaff, we honor stories, memories, and milestones by surpassing daily care standards for wellness needs with our My Activities program. Our goal is to customize activities that align with residents' interests, hobbies, and lifestyle, giving them a sense of belonging and purpose. My Activities includes the Employee Engagement Program, Resident Spotlight, and My Miracle Moment — the program in which we make dreams come true.
Through My Miracle Moment, we take the time to celebrate these amazing residents and their lives while creating wonderful new memories with them and their loved ones. We've hosted numerous parties and reunions, planned vow renewals, enjoyed hot air balloon rides, gone two-stepping, and walked a marathon.
My Legacy
Tailored exclusively for residents of The Cottage, our Memory Care community, the My Legacy program addresses a significant obstacle for individuals with memory loss: a decline in engagement with daily activities. My Passionate Activities, My Sensory Program, and My Legacy Box help seniors become excited about participating in endeavors that support their mental and physical health.
Our Passionate Employee
Through our Passionate Employee program, we help our team expand their knowledge, develop professionally, and be acknowledged for exceptional job performance. The tools and resources we use to empower our workforce are tailor-made, attainable, and carefully designed to assist each employee in realizing their full potential. The Passionate Attitude, Employee Recruitment Plan, and Wallet Program are all ways that we invest as passionately in our own as we do in our residents.
Learn About More of Our Memory Care Programs
Other offerings include:
Dementia Live: a high-impact, dementia simulation experience that immerses participants into life with dementia.
Fit for You: daily exercise, weekly yoga, weekly Tai Chi and daily/weekly meditation.
Sagely: a suite of automated tools which assist programming for memory care by saving time, increasing meaningful connections, and by providing insights.
Select Rehabilitation: With Select, residents will be given the highest quality physical, occupational, and speech therapies to help achieve optimal well-being.
Family Engagement
The Bluffs of Flagstaff's expert staff believes strong family relationships are crucial to the well-being of residents in Memory Care. Our community incorporates several family-oriented opportunities that support and strengthen family bonds. Family members can join their loved ones in special activities and events, including art classes, barbeques, and movie nights. Family support groups are also provided, creating a forum for family members to meet and connect with others experiencing similar challenges.
Unmatched Amenities
The Bluffs of Flagstaff offers residents unmatched amenities that are designed to enhance their quality of life. The seniors can enjoy a vibrant outdoor living experience, thanks to the community's beautifully landscaped gardens and walking paths for a serene and natural ambiance. Additionally, the community features a therapy pool, an on-site beauty salon, and a state-of-the-art theater. The dining experience is also top-notch, with nutritionally balanced meals prepared by expert chefs served in a restaurant-style setting.
Expert Flagstaff Memory Care Specialists Throughout All Dementia Care Programs
The Bluffs of Flagstaff's team is specially trained in Memory Care, ensuring the seniors receive the highest level of care and support. The staff undergoes rigorous training and continuing education to keep up-to-date with the latest techniques and information in caring for seniors with cognitive impairments. The community also has a high staff-to-resident ratio to ensure that each resident receives personalized care and attention.
Consider The Bluffs of Flagstaff's Thoughtful, Comprehensive Memory Care Programs
The Bluffs of Flagstaff provides exceptional Memory Care programs that are specific to seniors with cognitive impairments. The community is dedicated to maintaining a secure, supportive, and compassionate living experience for all residents to enrich seniors' lives.
Ready to tour our Arizona Memory Care community? Let us know and request more information about The Bluffs of Flagstaff's Passion Program.