Our community blog recently discussed the difference between nursing homes and senior living communities in East Texas. This popular topic deserves more attention, so we've decided to give a refresher course on the services nursing homes provide and the ten benefits of Assisted Living and Memory Care at Arabella of Kilgore.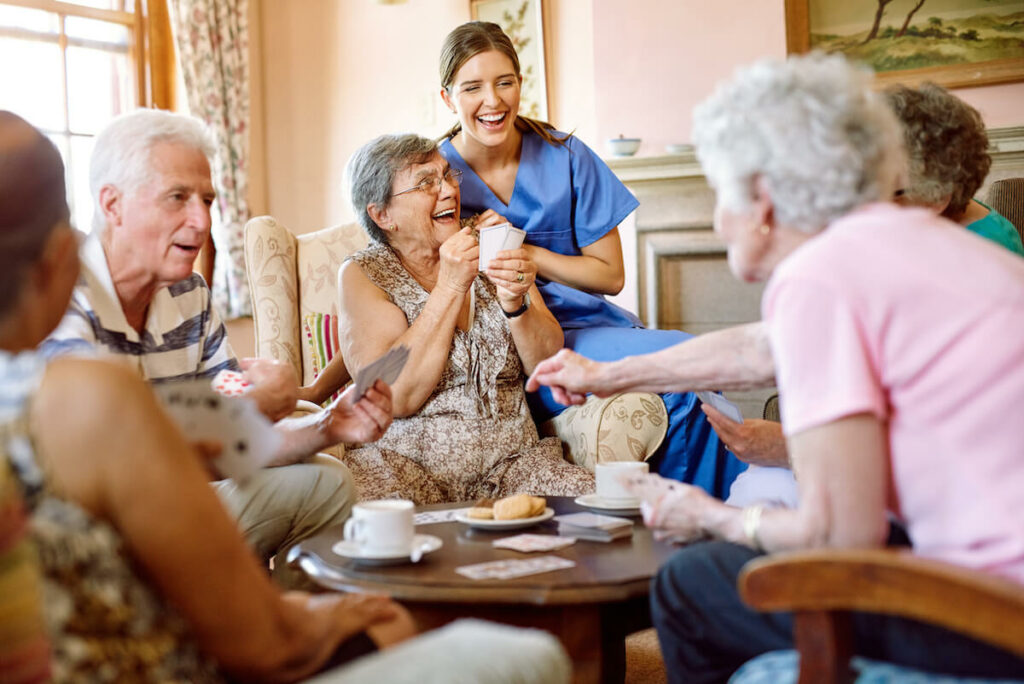 Nursing Homes
Deciding to find a care facility for a loved one is never easy. There are many things to consider, such as cost, location, and level of care.
Nursing homes are a traditional thought for senior care. However, these facilities are best for short-term stays.
Nursing homes are best for people who are:
Living with chronic conditions that inhibit living independently
Living with a disability that limits independence
Recovering from an injury or procedure
Nursing homes can be a great option for those who need assistance with activities of daily living or have physical disabilities that prevent them from caring for themselves on their own. However, the skilled nursing care available in these facilities creates a very high cost of care.
Medicare Part A may cover temporary nursing home visits if you have had a hospital stay of three days or more. Insurance will also pay for short-term stays when a doctor recommends more rehabilitation time.
Skilled nurses help residents with their needs with:
Physical, speech, and occupational therapies
Intravenous therapy
Wound care
Catheter care
Feeding tubes
Custodial care
Seniors who want to live independently and stay active physically and socially can do so with Assisted Living. These services available in senior living communities help older adults avoid the need for nursing homes.
The Ten Benefits of Assisted Living at Arabella of Kilgore
1. We Provide Compassionate Care
We offer diverse and engaging activities in Assisted Living. Residents enjoy these benefits because of the constant access to compassionate care. Living in a beautiful senior apartment to receive care doesn't hurt either.
2. Personalized Services
Thanks to our individualized Assisted Living services, you or a loved one can experience an elevated lifestyle. Our team ensures every interaction is unique, from housekeeping to activities of daily living.
3. Dedicated Experience
We have a passionate approach that drives our all-inclusive senior living community. Our directors and specialized caregivers are experts in their fields. Our expansive team is here to offer our best to you and your loved ones.
4. A Passionate Environment
Residents get the opportunity to live in a resort-style environment dedicated to providing a personalized experience. Residents are encouraged and inspired to follow their passions. Thanks to our Passionate Leader, residents feel at home.
5. Our Location In East Texas
Residents can feel secure living in a gated community near the World's Richest Acre. We provide upscale living options to seniors in East Texas.
6. Signature Programs
Our signature Passion Program holds our community to a rigorous standard of personalized service. Whether dining, receiving care or attending activities, know that every service is tailored for you or a loved one.
Other signature programs include:
Miracle Moments
Dementia Live
Sagely
7. Senior-Focused Activities
Encouraging active and social lifestyles is one more aspect of senior care. Engaging activities lead to happier and healthier seniors.
Some of our favorite activities include:
Seasonal Sips happy hour
Morning walking club
Green Thumb Club
Art Throbs Club
Lunch and shopping trips
Bingo, puzzles, and games
8. Chef-Prepared Nutrition
Our culinary team provides dazzling chef-prepared meals three times a day. Residents are in charge of customizing our seasonal menu. With multiple dining venues, seniors can pick between fast casual or fine dining throughout the day.
9. Resort-style Amenities
Enjoy the comfort and luxury of concierge-style services. Our fine amenities include:
Spacious lobby, common room, and sitting areas
Pet-friendly apartments
Housekeeping, laundry, and maintenance services
Computer area
Full-service salon
Fitness center
Outdoor garden area
Walking trails
Beautifully-landscaped interior courtyard
Outdoor patio
Scheduled transportation
10. Alzheimer's Care in Texas
The Cottage is our dedicated area to support seniors and their families living with Alzheimer's and other types of dementia. We provide this continuum of care to help residents age in place.
Our specialized Memory Care provides the most up-to-date, evidence-based program that ensures residents experience patience, love, and attentive care.
We provide relief with:
Higher caregiver-to-resident ratios
Individualized care
Purposeful and engaging daily activities
Personal care and hygiene assistance
Dementia-friendly exercises
Family support groups
Find The Care You or A Loved One Needs in Kilgore, Texas
Arabella of Kilgore would love to show you the elevated lifestyle waiting for you in our community. Contact us to schedule a tour today.