Louisville, KY offers a long list of senior living options. In the world of senior living, there are many terms floating around, and it can be confusing to differentiate between them. Let's take a look at some of the key ways that personal care and Assisted Living differ and how you can choose the best option for your loved one.
Personal Care
Unlike most Assisted Living communities, those like The Grand are licensed to offer personal care services and do more for your loved one, like providing continually-available nursing care. Having compassionate care staff available 24/7 allows residents to be more independent and gives family members the peace of mind that their loved ones' needs are met.
Personal Care
Medical Director oversees all nursing/clinical services
Trained, compassionate staff on-site 24-7
Full-time, licensed nurse
Medication management, including eye drops and blood sugar checks
Authorized to communicate with physicians and pharmacies
Monthly wellness assessments
One-person transfers
Ability to provide for in-house labs and x-rays through other organizations
Maintains resident charts and medication records
Most long-term care insurance policies cover personal care
Assisted Living
Does not typically offer nurses or nursing oversight
Can only offer assistance with medical reminders
Employees cannot determine dosage, administer injections, or other medication
Employees cannot take orders for or make changes to medications
Can only administer first aid and then call 911
Does not provide diabetic management
Cannot provide in-house labs and x-rays through other organizations
Few long-term care insurance policies cover Assisted Living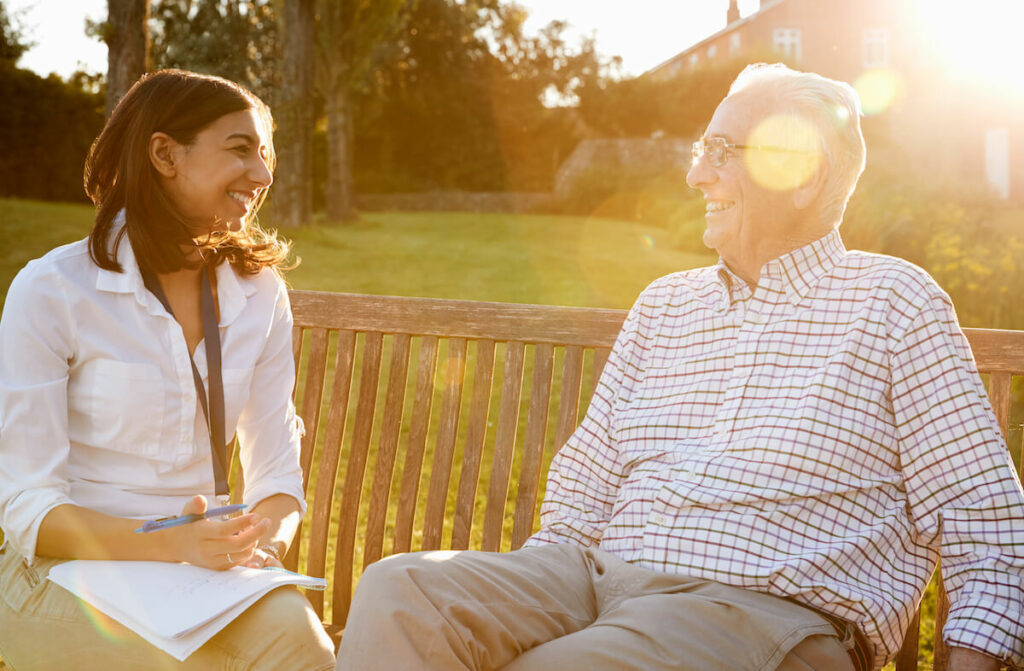 What Is Life Like at The Grand?
Life at The Grand is grand! We're one of the most unique retirement communities in Kentucky. Our goal is to empower residents to be as independent as possible while providing caring support. Personal care is resort-style living with the customized care and clinical oversight that your loved one needs. Residents enjoy private, well-appointed, pet-friendly apartments within a community featuring many amenities, including:
Cable, Wi-Fi, and phone services
Beautifully landscaped terraces and courtyard
Walking trails
On-site pampering salon
Theater and media room
Activity room
Trash disposal
A Passion for Dining
Food brings us together and is so much more than just nutrition. Residents also enjoy passionate dining services that give them the choice to enjoy meals their way. Meals feature fresh, seasonal ingredients and residents can choose from restaurant-style dining, optional in-room dining, a casual bistro with light snacks, an outdoor patio, or a private dining room.
Staying Active and Having Fun
Residents' interests and preferences are honored with plenty of ways to stay engaged at The Grand. Our signature programs provide the perfect opportunity to socialize and make new friends, or take up a hobby that brings your loved one joy.
You'll find residents staying fit with Fit For You chair aerobics, getting creative with the Art Throb or Green Thumb Club, attending themed events, heading out for scheduled outings, and even celebrating their special moments.
If you're looking for the best lifestyle for your loved one, look no further than personal care at The Grand. We're passionate about making their experience special, providing excellent care, and putting their happiness and well-being first.
Come Experience Passionate Care In Prospect, KY.
If you're looking into senior living options at retirement communities in Kentucky, our team is here to answer any questions you may have about personal care. Call us today at (502) 233-3855 and set up a tour of our passionate community. Help your loved one live life to the fullest, starting today.