Retirement can be a difficult time in life. You may find that you're not as active or have health concerns, which means living on your own becomes harder. Daily tasks like cooking meals and doing laundry can become big hassles.
The Grandview of Chisholm Trail offers senior care in Fort Worth, Texas. Our premier destination for luxury senior living helps make the transition into older age less daunting.
Enjoy Your Retirement Years Worry-Free
Our supportive staff is available 24/7 to help with things like bathing, grooming, and dressing. We also provide three delicious meals per day. Expertly prepared snacks and drinks are also available. Plus, our convenient location means you'll be close to all the best Fort Worth offers!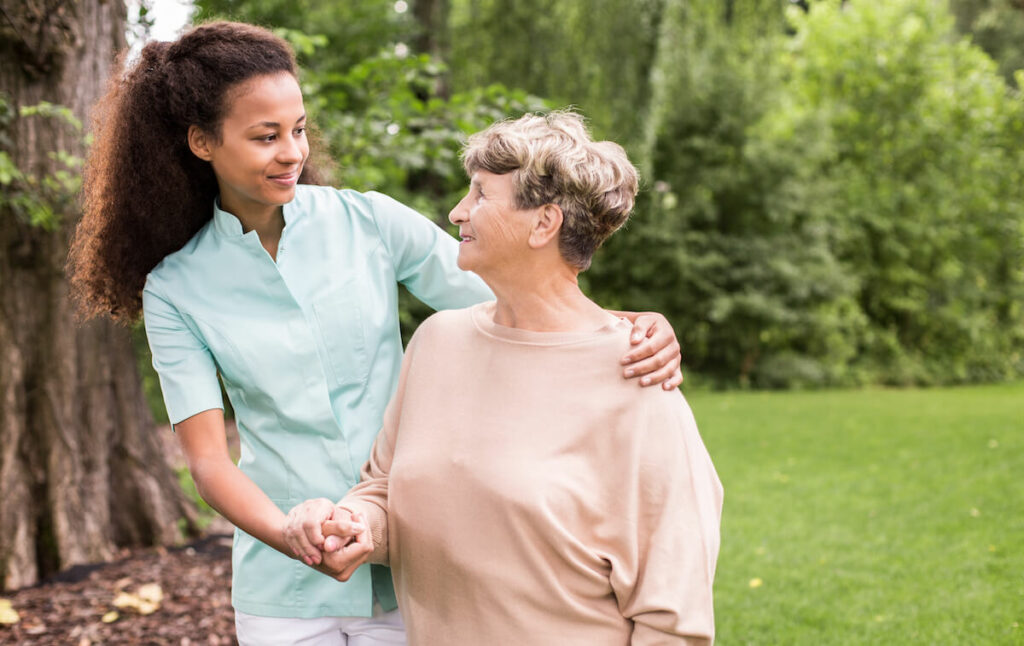 All-inclusive Assisted Living communities like The Grandview of Chisholm Trail are becoming increasingly popular among Texas seniors. One monthly bill covering all community services eliminates many hassles and provides peace of mind.
In addition to maintenance services and weekly housekeeping, our all-inclusive community offers:
Transportation
Laundry
Chef-prepared meals
Physical and social activities
Invitations to special events
An all-inclusive Assisted Living community may be the right fit for you. It's beneficial whether you're looking for a hassle-free way to downsize or want to enjoy a maintenance-free lifestyle.
Eliminate Loneliness
As we age, it's increasingly important to stay social and active. Unfortunately, nearly 25 percent of people over 65 experience loneliness and social isolation. This problem can lead to physical and mental issues like:
Chronic illness
Hearing loss
Depression and anxiety
A 50 percent increased risk of dementia
An increased chance of heart disease and stroke
Even seniors receiving home care services or companion care may not receive as much socialization as they need. Twenty-four percent of seniors said they would have liked to participate in more social, recreational, or group activities.
These findings emphasize the importance of frequent social participation in maintaining the quality of life.
We understand that staying active in retirement isn't always easy. The Grandview of Chisholm Trail includes various activities and events designed to keep seniors engaged and social. From arts and crafts to group outings, there's something for everyone in our Assisted Living and Memory Care community.
Older adults can enjoy their golden years to the fullest by staying connected.
Reduce Your Risk of Needing Nursing Home Care
There is a big difference between nursing homes and Assisted Living and Memory Care communities. Nursing homes are facilities where seniors recover from injury or illness. They receive respite care from skilled nurses to return home.
The Grandview of Chisholm Trail offers accessible living spaces and resort-style amenities that reduce the risk of falls and accidents. Comforting features such as walk-in showers, grab bars, and maintenance service aid this benefit. Our emergency response systems mean help is immediately available.
Residents can participate in our signature Fit For You exercise classes to increase strength and balance. Seniors can live with confidence knowing that they are in a supportive environment.
A Type of Care For Every Moment
As with many other Assisted Living facilities in Fort Worth, TX, our community offers care that grows with your lifestyle.
The Cottage is our signature Memory Care neighborhood. Residents living with Alzheimer's and other types of dementia can live in the moment that is best for them.
Dementia care is a specialized service for older adults living with memory loss. It's a higher level of care than Independent Living and offers elevated Assisted Living services such as:
Activities of daily living assistance
Personal care and hygiene services
Medication management
Senior health care services
Our kind and caring team emphasize living in the moment in The Cottage. Holding on to the good times is part of our Memory Care associates' training.
Maintaining a high staff-to-resident ratio ensures person-centered care for every stage of dementia.
As part of our programming, we engage our residents in a specialized, evidence-based method of teaching and learning. These moments include:
Music therapy
Artistic expression
Mentally stimulating activities such as puzzles, brain teasers, and word games
Signature-themed sensory boxes
Interactive life and workstations
Alzheimer's and Dementia Support Group meetings for residents and family members
Premier Senior Care–Fort Worth Fun
Assisted living apartments are perfect if you want the feel of community with the benefit of privacy and independence. Our pet-friendly living spaces come in various floor plans to accommodate many lifestyles.
Our community features beautiful outdoor spaces where our residents can enjoy time outside.
Fort Worth is a wealth of senior-friendly attractions, and we utilize community transportation to get out and enjoy places like:
Oakmont Park
Sid Richardson Museum
The team at our Assisted Living and Memory Care community work with passion. We provide the care services seniors need to live the life they want.
Experience The Benefits in Person
Don't spend your retirement years worrying. Visit us at The Grandview of Chisholm Trail!
We offer Assisted Living and Memory Care services in a luxurious setting that you'll love. Contact us today to learn more about our senior care services in Fort Worth!