How Yoga Benefits Independent and Assisted Living Residents
Dripping Springs is the "Gateway to the Hill Country" and is most famously home to Morris Buckman or 'Buck,' a 101-year-old yoga instructor.
As a senior living in Dripping Springs, TX, Buck leads daily therapeutic yoga for seniors and other seated exercises at the Ledgestone Senior Living community.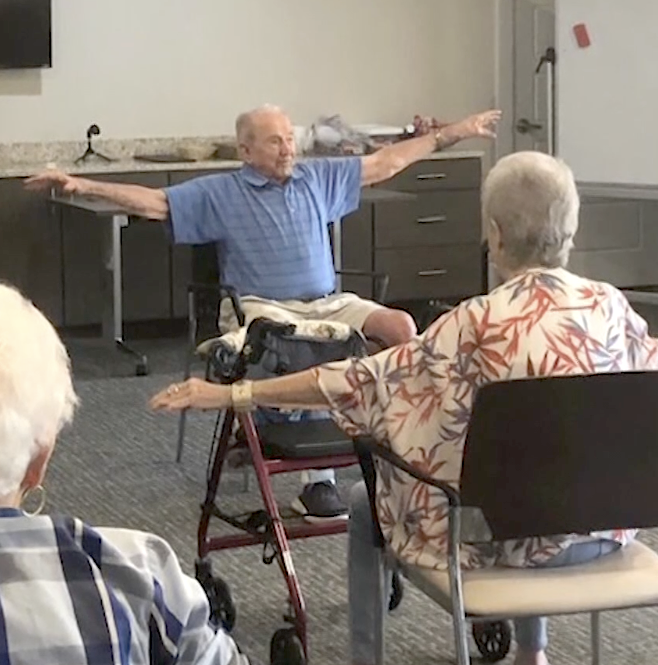 What is therapeutic yoga for seniors?
You may be picturing active adults walking around in spandex with a mat under one arm and a fancy water bottle in the other. However, you would overlook the seniors at Ledgestone who are off to do yoga. We wear comfortable everyday clothes and do most of our stretches while seated.
A study by expert physical therapists concluded chair yoga:
Reduces senior fall risk
Reduced fear of falling
Reduces anxiety
Improves balance, mobility, and mood
Therapeutic yoga for seniors stretches and strengthens the body, and aligns the mind. We remain seated for most of these warmups. The benefits of yoga for older adults can be life-changing.
Popular seated yoga positions for seniors:
Seated Warrior: Promotes core stability and arm strength. Enjoy the benefits of calming the mind and improving posture.
Seated Mountain: Soothes muscle pain and stretches the spine. Muscles from the shoulder to the wrists become relaxed.
Seated Cat-Cow: The cat-cow activates the abdominal muscles and unleashes stress and tension. It's also great for supporting the hips.
Can any senior do chair yoga?
It's always a good idea to check with your doctor before beginning any new training regimen. Seniors living with hypertension, later-stage Parkinson's, or dementia may want to avoid new exercises. Certain medications that cause dizziness may increase the risk of falls.
At 101-years-young, Buck got into his training program only a few years ago. Following problems with mobility, Buck took a fall and broke his hip. That didn't stop this veteran from regaining strength, striking yoga poses, and becoming a model resident. Our independent living, assisted living, and memory care community loves his positivity.
Buck has the strength to live an independent lifestyle even as a centenarian. His days are filled with good food, good friends, and good health.
What's the difference between independent living and assisted living?
The main difference is a lifestyle preference.
Seniors who want to remain socially active but don't want to deal with the hassles of maintaining a home enjoy the ease of independent living.
Assisted living communities provide personalized senior care services to help people maximize their independence.
Think about these benefits when choosing senior housing:
Independent Living Benefits:
New friends and social clubs
Parties and special events
Daily activities and wellness programs
Access to chef-prepared dining
Maintenance-free lifestyle
Housekeeping and transportation services
Medical alert system
Assisted Living Benefits include all of the above, plus:
Nurse and specialized team member support
Personalized activities of daily living assistance (bathing, dressing, transferring, personal care)
Medication management
Individualized wellness plan
Three chef-prepared meals per day
Regularly updated care plans
Ledgestone Senior Living in Dripping Springs offers seniors a peaceful and luxurious lifestyle. We're only 20 minutes outside of Austin, TX.
Our independent living community apartments come in fully-equipped studio, one, and two-bedroom apartments. Assisted living residents love letting go of hassles by choosing floor plans that include multiple studios and one-bedroom apartments.
There's never a dull moment in our community unless relaxing in the solace of your private residence is what you want. By making Ledgestone your new home, enjoy access to:
A terraced patio with sweeping views
Outdoor pool, patio, and grilling area
Private courtyard
Salon
Game room and fitness center
Art studio and library
Theater
Multiple dining venues, including a sweets shop
What is memory care?
The Retreat is where seniors experiencing memory loss due to Alzheimer's and other forms of dementia live honored lives. Our specialized memory care neighborhood is familiar and secure.
Memory care in The Retreat is supported by specialized team members who encourage residents to explore their passions and live in the moment. We create a family-style environment where new friendships are encouraged.
Memory Care Benefits:
Smaller staff-to-resident ratio to provide tailored care
Evidence-based mind-enhancing games, projects, and exercises
Purpose-based and failure-free activities
Evidence-based soothing and calming therapy
Brain-healthy menu options
A focus on cleanliness
Activities of daily living assistance
Personal care
Private and shared apartments and large central living area
Secure courtyard
Parties and special events
Our memory care community removes caretaking duties from family members. We offer a chance to slow the memory loss process with an engaging lifestyle. The Retreat lets families enjoy positive moments with their loved ones.
Meet Buck and Learn Senior Yoga in Dripping Springs, Texas
Ledgestone Senior Living would love to meet you or a loved one who is interested in living with vigor and vitality. To learn more about our care services, visit our senior living community in Dripping Springs. Contact us to arrange a tour or ask questions.