Yes! Therapies of all forms are a standard service in many senior care communities in Texas.
The ability to perform daily tasks can become challenging with age. This is often particularly true for seniors in assisted living and memory care communities. However, it's crucial to understand that these challenges don't have to define the golden years.
With the proper support, seniors can continue to live independently. One such support system is occupational therapy.
Are you worried a loved one might need to move to an Austin, Texas senior care community? Do you see them struggle with the ability to perform daily tasks? Double Creek is an assisted living and memory care community north of Austin in Round Rock, TX. Let's explore how to get them the help they need.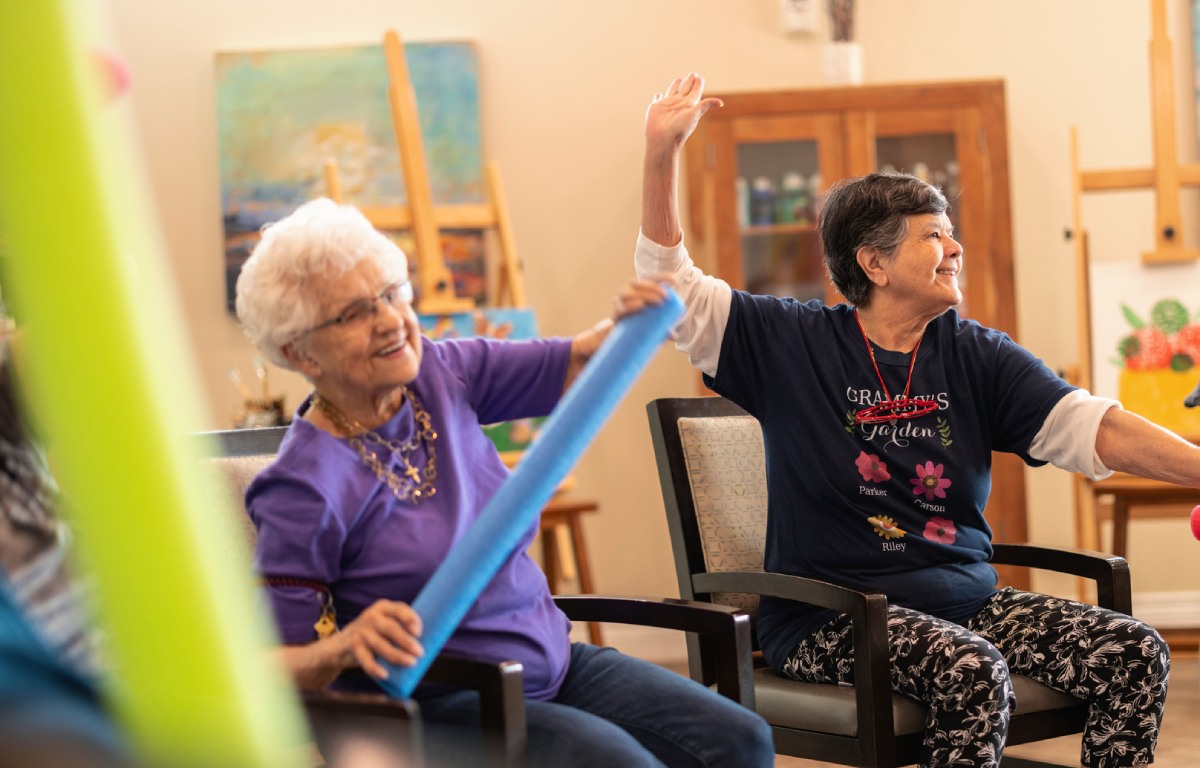 Occupational Therapy: Enhancing the Lives of Seniors in Assisted Living and Memory Care
Therapy services are an invaluable resource available in senior living communities. This benefit can significantly improve the lives of assisted living and memory care residents. On-site therapy services are nearly as crucial as personalized care.
Occupational therapy is a specialized form of health care that focuses on enhancing the overall well-being and quality of life for seniors living in assisted living and memory care. It helps older adults:
Maintain their independence
Engage in meaningful activities
Manage the challenges associated with aging and memory-related conditions
This therapy offers a holistic approach. It addresses and benefits the physical, emotional, and mental well-being of individuals.
Physical Benefits
Improved Mobility: Occupational therapists work to enhance seniors' physical abilities, such as balance, strength, and coordination. This can reduce the risk of falls, which is crucial in these care settings.
Assistive Devices: They assess and recommend appropriate assistive devices like wheelchairs, walking aids, or adaptive tools to help seniors with daily tasks.
Pain Management: Occupational therapy can aid in pain management by teaching seniors techniques to reduce discomfort and improve their ability to engage in everyday activities.
Emotional Benefits
Enhanced Confidence: Seniors often face emotional challenges, including anxiety, depression, and frustration. Occupational therapy provides strategies and activities to boost self-confidence and reduce these emotional stressors.
Social Interaction: Engagement in occupational therapy can offer opportunities for socialization and interaction, reducing feelings of isolation commonly experienced in assisted living and memory care settings.
Stress Reduction: Occupational therapists help seniors develop coping mechanisms to manage the stress associated with memory loss and adapting to new living environments.
Mental Benefits
Cognitive Stimulation: Occupational therapists use memory-boosting exercises and activities to stimulate cognitive function and slow cognitive decline in seniors with memory issues.
Daily Living Skills: Therapy teams work with seniors to maintain their ability to perform daily tasks, such as dressing, cooking, and managing medication. Memory care programming often incorporates life/workstations to encourage these benefits.
Enhanced Problem-Solving: Occupational therapy aids in improving problem-solving and decision-making skills, helping seniors adapt to changing circumstances.
Differences from Physical and Speech Therapy
Occupational therapy, physical therapy, and speech therapy are distinct in their goals and approaches.
Occupational Therapy (OT)
OT focuses on improving an individual's ability to perform daily activities and maintain their independence. It considers the person's physical, emotional, and mental well-being, aiming to enhance their overall quality of life. OT is not solely concerned with physical rehabilitation or speech-related issues but addresses a broader range of functional needs.
Physical Therapy (PT)
PT primarily targets physical impairments, such as muscle weakness, joint pain, or mobility limitations. It is concerned with improving strength, range of motion, and functionality, focusing on movement and physical well-being.
Speech Therapy (ST)
ST is dedicated to the assessment and treatment of speech and communication disorders. It helps individuals with issues related to speech, language, voice, and swallowing. Speech therapists work on improving verbal and non-verbal communication skills.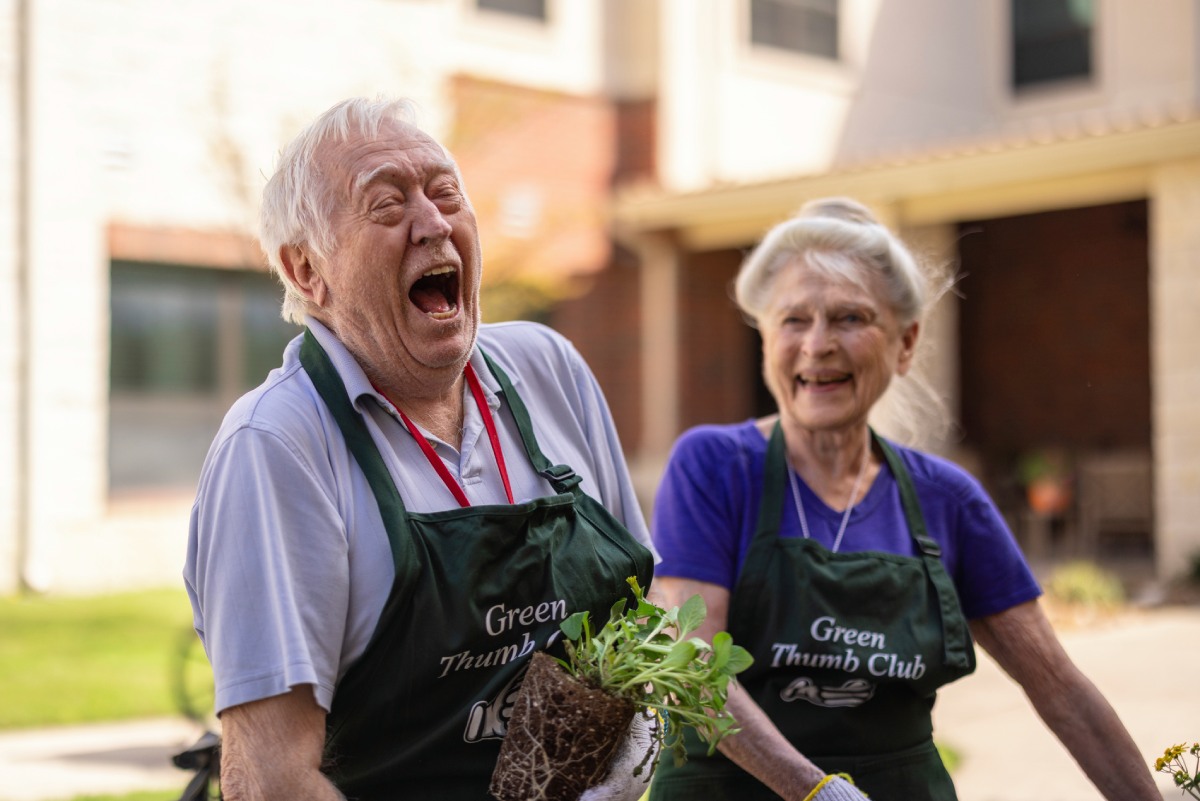 Supporting the Need for Austin, Texas Senior Care
Just over 13 percent of Williamson County residents are seniors, and 11 percent of Travis County residents are over 65. That equals a lot of older adults requiring assisted living and memory care facilities in Austin, TX.
At Double Creek Assisted Living and Memory Care in Round Rock, TX, we understand the importance of quality senior care. Our community is nestled in the heart of Central Texas, just a stone's throw away from Austin, and we are steadfast in our commitment to providing exceptional senior care.
We pride ourselves on our ability to offer various services that cater to multiple needs. Our expert care team provides comprehensive home care, ensuring peace of mind for both residents and their family members.
One of the cornerstones of our community is our partnership with Select Rehabilitation. We believe in the power of occupational therapy in senior living communities. Through Select Rehabilitation, we offer in-house therapy to all our residents, designed to enhance their physical abilities and improve their quality of life.
Our memory care community stands out because our certified dementia care specialists have a deep understanding of the unique needs of those experiencing memory loss. Programming in The Cottage goes beyond what is offered in assisted living facilities or nursing homes. We provide environments where residents can thrive while receiving the support they need.
Discover Senior Care and Therapy Near You
Join us at Double Creek Assisted Living and Memory Care, where we turn the golden years into a time of growth, discovery, and joy for Austin-area residents. Contact us today to learn more about personalized support or memory care costs.