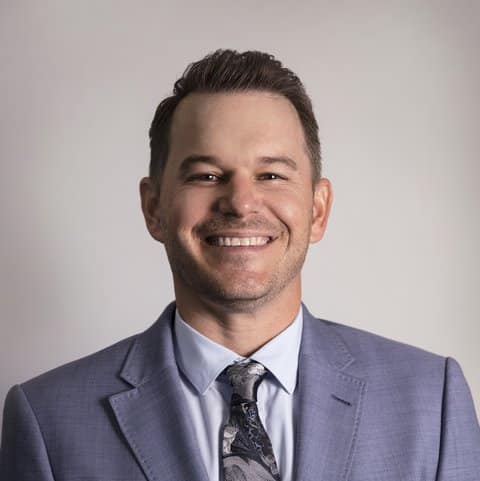 Cooper Vittitow is President and Co-Founder of Civitas Senior Living, where he works with senior leadership to develop both the short-term and long-term vision for the company based on deep dives into data, innovation, and people across all departments. Additionally, he works to help grow the company through the identification, vetting, planning, and implementation of various advantageous projects and partnerships.
Cooper began his senior living journey in 2007 when his then-girlfriend (now wife) Amy Vittitow introduced him to Wayne Powell as a potential job candidate. Wayne took a chance on him and hired him as an intern at The Courtyards of River Park, where he discovered that the senior living industry was the perfect fit. It wasn't long until he was promoted — first to Assistant Executive Director in 2009 and then to Executive Director in 2011.
In 2012, he co-founded Civitas Senior Living as Vice President of Operations with Wayne Powell, Misti Powell, Jay Dempsey, and Amy Vittitow and has since served as Senior Vice President of Operations, Chief Operating Officer, and now President. Throughout his tenure with Civitas, he has been instrumental in building the company's infrastructure, while positioning Civitas for tremendous growth without sacrificing its core values and competencies. This has included creating and revamping, policies and procedures, employee handbooks, resident handbooks, Civitas' Standards of Excellence; developing an Executive Director intranet and operating protocols; bringing in new, innovative programs for things like dementia training; building community business plans and budgets; and hiring, training, and retaining the best people in the business.
Cooper holds a BBA from Lubbock Christian University and an MBA from Texas Wesleyan University. He is an SLCC Certified Director of Assisted Living and holds a CompTia Project Plus Certification. Cooper serves on the Board of Directors for the Alzheimer's Association North Central Chapter and is a member of the Accushield Advisory Committee and the Argentum Workforce Development Committee. When he's not creating happiness in the lives of Civitas employees and residents, Cooper is passionate about art, music, and history. As a former athlete, Cooper enjoys watching most sports and playing golf. His favorite time is spent visiting historical locations, museums, and galleries with his "wonderful" wife.