Five Ways ​​Active Senior Living in Fort Worth, Texas Benefits Older Adults
The law of inertia states that an object at rest stays at rest and an object in motion stays in motion. Our bodies operate similarly. According to the American Cancer Society, moving more and sitting less is the goal.
Seniors tend to exercise less than younger people. Only 49.1 percent of adults over 65 meet the goal of 150 minutes of physical activity per week. Mixing the types of exercise is also important. These activity levels include:
Moderate-intensity aerobics like walking
Vigorous-intensity aerobics like jogging or bike riding
Muscle strengthening
However, many seniors tend to lead sedentary lifestyles due to changes in mobility or lack of access. The Centers for Disease Control and Prevention (CDC) reports that 25 percent of seniors are socially isolated. In addition to not being physically active, these older adults experience an increased risk in:
Dementia
Stroke
Heart disease
Depression
Anxiety
Hospital and emergency room visits
Keeping the mind in motion is just as important as keeping the body moving. Staying active is a holistic process for the mind, body, and soul. Active adult communities like The Grandview of Chisholm Trail in Fort Worth make this process easy.
Discover five ways our Assisted Living and Memory Care community in Fort Worth provides senior care in addition to active living.
1. Bowling
You can find seniors in our senior living community turning our beautiful common areas into bowling lanes.
Bowling promotes healthy circulation and creates an increase in endorphin levels. Three games can have as many health benefits as walking a mile. The benefits of knocking down pins include:
Flexibility
Strength training
Increased balance
Increased mobility
Increased hand-eye coordination
2. Fit For You
Fit For You is a regular activity in our enhanced support retirement community. This program promotes body and brain movement to support neuroplasticity in the brain.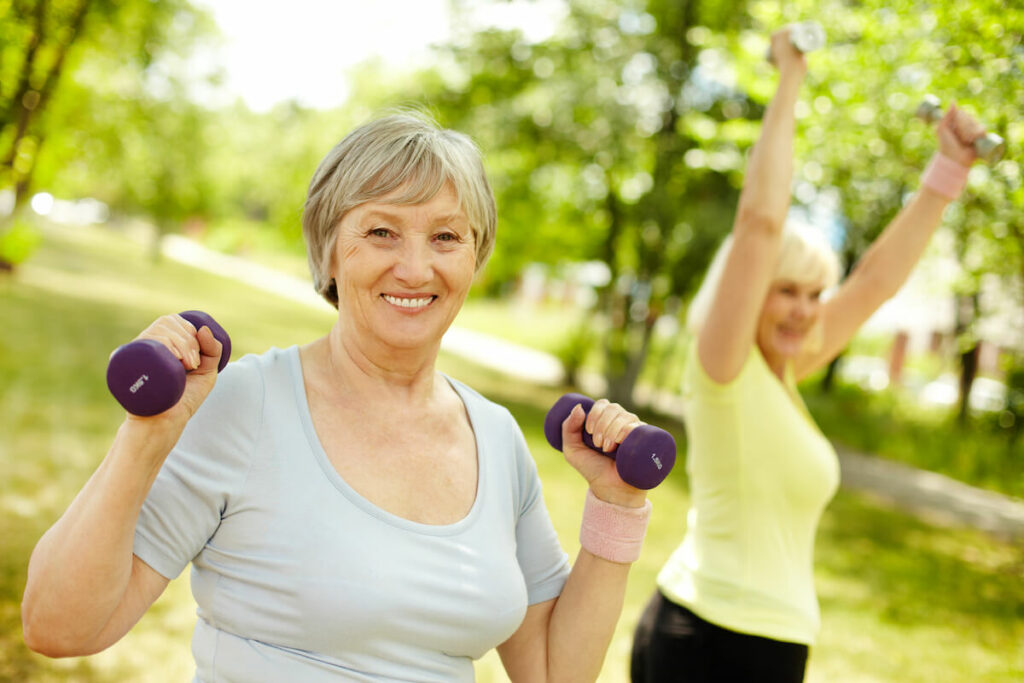 Exercise helps older adults stay flexible mentally as well as physically. The seated movements of Fit For You help form new neural pathways in the brain by learning and exercising simultaneously.
3. Art Throb Club
Our signature Art Throb Club keeps seniors in tune with their hobbies and engaged with their creative side.
In our activity center/art studio, residents work on:
Painting
Sculpture
Collaging
Jewelry making
Theater performances
Singing and dancing
Older adults can use time in the art studio to craft new friendships while working on projects. Seniors do not have to create masterpieces to receive the benefits of artistic pursuits:
A higher-quality social life
Increased self-esteem
Reduced stress and anxiety levels
Better cognitive function and memory
Increased coordination and dexterity
Residents in our Memory Care community can use art to express themselves and recall fond memories. Activities such as tying yarn or forming clay can offer sensory calming therapy for people with dementia.
4. Green Thumb Club
Seniors can enjoy an excuse to be in the fresh air and sunshine when joining the Green Thumb Club. Gardening is a low-impact physical activity and highly mental interactive experience.
We love watching senior friendships grow as they tend to the garden and dig in the dirt. Sifting through the soil is good for health. The good bacteria known as Mycobacterium vaccae can help strengthen the immune system and improve mood.
5. My Food
Food is fuel and an experience at The Grandview of Chisholm Trail. Residents enjoy eating chef-prepared meals in the dining room three times a day.
Culinary arts are often another good excuse to get seniors to interact with each other. From chef demonstrations to cooking and baking activities, seniors can taste the fun in our active senior living community.
My Community Signature Dish is a chance for residents to vote on select chef specials to add to the permanent menu. It's one more opportunity to create camaraderie and friendly competition in our community.
Signature programs like Seasonal Sips give our culinary team members a chance to highlight additional Fort Worth area produce. Great food and good drinks keep our community members close.
About The Grandview of Chisholm Trail
Our Fort Worth Assisted Living and Memory Care community is conveniently located near Chisholm Trail Parkway. Find us between the Sycamore School and McPherson exits.
Our team provides an individualized level of care to every resident. In addition to active and enriching experiences, residents receive:
As needed activities of daily living assistance
Medication management and administration
On-site physical therapy
Housekeeping and laundry services
Scheduled transportation
Concierge service
Seniors love the variety of floor plans available in our pet-friendly apartments. Our community includes resort-style amenities such as a theater, fitness room, and putting green. Moving more and sitting less is as easy as walking out your front door.
Be an Active Senior in Fort Worth, TX
To learn more about staying active and the cost of Assisted Living, contact us! We'd love to give you a tour of the lifestyle waiting for you at The Grandview of Chisholm Trail.