Dementia can bring about various challenges for seniors and their loved ones. It's important to remember that seniors with dementia still have needs like anyone else.
Physical, mental, and social activities for seniors with dementia are crucial to keeping them healthy, happy, and engaged.
Alzheimer's care in Fort Worth, TX is available at The Grandview of Chisholm Trail. Our dementia care specialists understand the unique needs of seniors with dementia. We provide therapeutic activities that have numerous benefits for a variety of reasons. Follow along as our team outlines some practices we use in our memory care community.
Continue reading to learn more about:
Why activities for seniors with dementia are vital for health
What types of activities are good for people with dementia
Senior living services in Fort Worth, Texas for dementia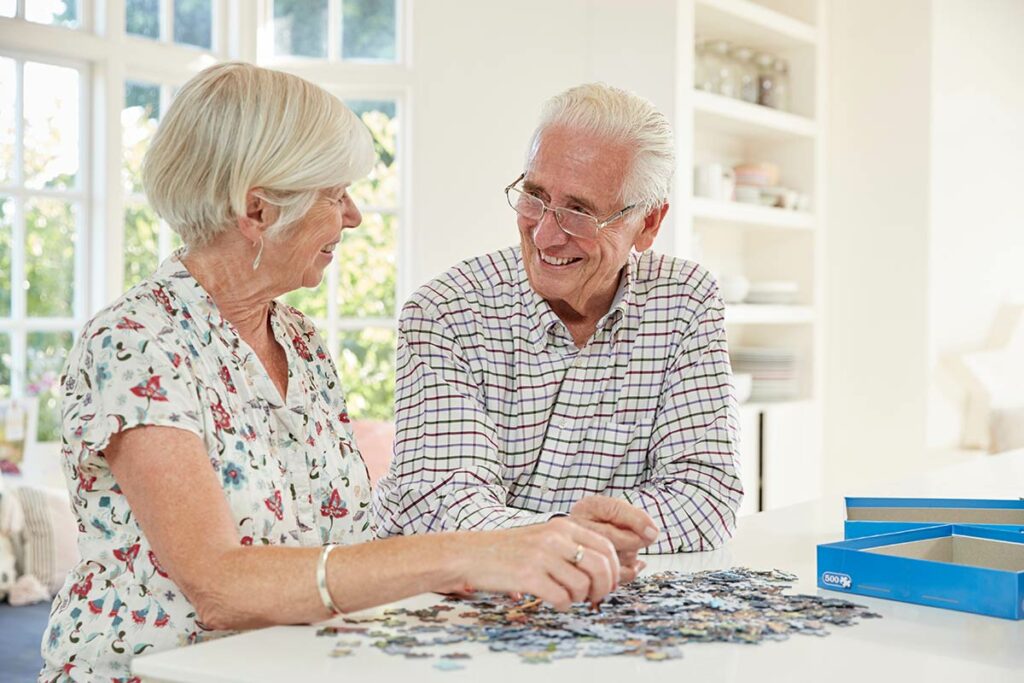 The Benefits of Activities for Seniors with Alzheimer's and Dementia
Activities engage the mind and body, which helps to keep seniors sharp and alert. They also provide an opportunity for social interaction, which is vital for those living with dementia.
Staying active can:
Help reduce stress levels
Boost self-esteem
Provide a sense of purpose
Bring meaning
Improve coordination
Improve balance and flexibility
Improve sleep patterns
Curb aggressive behaviors
Lessen mood swings
Bring families closer together
People in the early stages of Alzheimer's and dementia often shy away from their favorite hobbies and pastimes. Apathy can play a role in losing interest in leisurely pursuits. Encourage and adapt the activities according to their ability level.
Activities can help slow memory loss. The brain can adapt and change despite the effects of dementia. Physical exercise and mental stimulation work together to promote blood flow and healthy cell growth in the brain.
Dementia-Friendly Activities
Choosing activities for seniors with dementia can be a daunting task. Family members acting as caregivers sometimes forget to promote physical, mental, and social stimulation.
Understanding the importance of staying busy is key to providing seniors with the care they need. These tasks can help people with Alzheimer's and dementia maintain their sense of autonomy. Aim for failure-free activities that focus on purpose or fun.
With that in mind, let's take a closer look at activities for seniors with dementia and how you can incorporate them into your loved one's daily routine.
Physical Activities
Physical activities are a great way to boost physical health in seniors with dementia. Light exercises such as walking or swimming can help maintain balance and strength. It can also help reduce stress and anxiety levels.
A light stroll outside surrounded by nature is an excellent way to get some much-needed fresh air and sunshine. Exercise can also be a perfect way for family members to spend time with their loved ones while promoting overall well-being.
Be mindful of the person's abilities and energy levels. Pushing exercise too far can cause agitation and hurt self-esteem. Light chores or gardening make for excellent physical projects.
Mental Activities
Mental activities are essential for seniors to stay sharp and engaged. Puzzles and crosswords are fun ways to stimulate the brain. Apps for tech-savvy seniors offer mental exercises like trivia games or word puzzles on phones or tablets.
How do you mentally stimulate someone with dementia? Keeping someone with dementia mentally stimulated can be a fun and rewarding process that encourages their sense of self-expression and esteem. One way to achieve this result is to engage in activities that promote creativity.
Scrapbooking, stories, and painting are just some of the activities people with dementia can do and enjoy. Creating art projects can be useful to focus on accomplishments, brighten up the home, or stimulate memories.
Interactive games can stimulate the brain and open pathways to socialization. Whatever activity you choose, it's best to keep it interesting for your loved one. Change projects and introduce new exercises from time to time. Take note of what they like and don't.
Doing something together facilitates positive experiences and feelings of accomplishment. Remember, the goal is simply enjoyment and improved quality of life.
Social Activities
Social activities are essential because they provide opportunities to connect with others. It's easy for caretakers and people with dementia to fall into loneliness and depression. Try to organize regular small gatherings if your loved one is physically able.
Some social activities may include:
Activities should never be overlooked when it comes to providing care for seniors who have dementia. All types of activities play an essential role in maintaining happiness and quality of life.
Activities for Dementia: Senior Living Services in Texas
At The Grandview of Chisholm Trail, we take pride in creating an atmosphere where residents can come together and live in the moment:
Our senior living services in Fort Worth, Texas focus on activities that stimulate and inspire people with dementia.
Chef-prepared meals, fitness classes, and Miracle Moments are not just luxury senior living amenities. These activities help people with memory loss find purpose and meaning.
One unique activity offered at The Grandview of Chisholm Trail is Dementia Live. This immersive experience allows family members to gain empathy through the power of virtual reality by experiencing what it's like to live with dementia.
The Grandview of Chisholm Trail is proud to offer comprehensive Alzheimer's care services in Fort Worth so families can rest assured knowing their loved ones will receive personalized attention tailored specifically towards them.
Discover Memory Care Activities in Fort Worth Senior Living
Our innovative approach allows us to provide specialized senior living services that Texas families trust. Contact us today with any questions about our provisions. We look forward to hearing from you soon!