If you or a loved one is looking for assisted living facilities in Colorado Springs, you may be overwhelmed by the number of senior living options available. Choosing the right assisted living community can be difficult. However, it is an essential step to aging well.
In Colorado Springs, senior centers, continuing care retirement communities (CCRCs), and assisted living are all places that can benefit an older adult. Keep reading to find out which senior living option is best for you or a loved one.
Senior Assisted Living in Colorado Springs
A traditional senior living facility with a unique and modern twist perfectly blends the feeling of home and a resort-style way of life. One such community is StoneCreek of Flying Horse. We offer a continuum of care from independent living and assisted living to memory care.
Assisted living communities are designed for seniors who do not require 24-hour medical care from a nursing home. However, these communities do help with daily activities such as:
Bathing
Dressing
Medication management
Housekeeping and laundry
At StoneCreek of Flying Horse, our team of compassionate caregivers provides personalized assistance based on each resident's unique needs. We believe in promoting independence and dignity while providing the support seniors need to live their best lives.
One thing that sets us apart from other senior living communities in Colorado Springs is our continuum of care. We offer a range of living options designed to grow with a resident's needs. Older adults can age in place and receive consistent and high-quality care.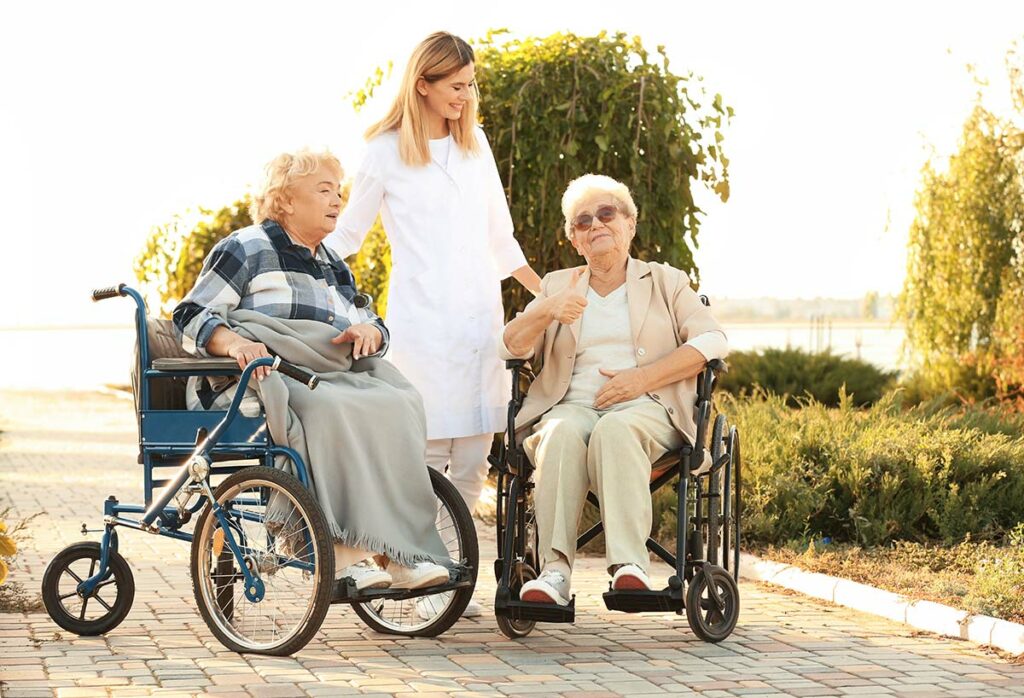 Explaining the Levels of Care at StoneCreek of Flying Horse
Independent Living
Independent living is an excellent option for retirees who want to relax and socialize. This senior living option provides peace of mind that chores and the hassles of living at home are eliminated. Fine dining is available, but residents can cook in their homes. StoneCreek has apartment and villa floor plans that offer full kitchens.
Residents can use community transportation to go shopping, play golf, or visit the Garden of the Gods. Our concierge service is here to help make life easier and hassle-free. Residents are encouraged to make new friends and experience true freedom in retirement. Living in a resort-style atmosphere doesn't hurt.
Assisted Living
Our Colorado Springs assisted living community reimagines senior independence. Thanks to our team members' supportive services, assisted living residents are treated to the lifestyle they deserve.
Engaging activities and chef-prepared dining are daily amenities in addition to personalized care services. The majority (82 percent) of assisted living residents are over 75. At least half of the residents will need help with at least one of the following:
Mobility assistance
Bathing
Dressing and grooming
Our assisted living team includes passionate professionals who assist residents according to the needs of their individual care plans. Older adults can enjoy our activities and amenities with personalized help.
Memory Care
At least 76,000 Colorado residents are a part of the over six million Americans with Alzheimer's. Our memory care in Colorado Springs supports seniors and their family caregivers in need.
The Cottage is our secure signature environment for residents with Alzheimer's and other forms of dementia. Memory loss happens in various stages and affects each person differently. Our dementia care team is specially trained to respond to and comfort individual needs.
Continuing Care Retirement Communities in Colorado Springs
A continuing care retirement community (CCRC) is a type of senior living community that offers a range of living options for seniors, from independent living to skilled nursing care. The primary difference between a CCRC and a traditional senior living community is that a CCRC provides a higher level of advancing care.
Skilled nursing care is typically offered in these types of senior living facilities. Residents who experience falls, or an injury will not have to move to a different facility to rehabilitate temporarily.
An older adult may need to move to a new place if they age out of the services at a retirement community or independent living facility. These transitions can be difficult, disruptive, and expensive for residents and family members.
A CCRC allows residents to stay within the same community as their needs change. These communities provide a range of services and amenities to support residents at each level of care. These are similar services to what we offer at StoneCreek of Flying Horse.
A stable future is one of the benefits CCRCs and our senior living community share. There are financial benefits to planning ahead.
However, it's important to note that CCRCs typically require a significant upfront investment, known as a buy-in fee. This fee can range from tens to hundreds of thousands of dollars. Every CCRC features different types of contracts. This barrier often prevents many seniors from affording CCRCs.
StoneCreek of Flying Horse does not require a high buy-in fee. Our community offers access to high-quality care without a high upfront cost. Month-to-month senior living lifts the burden of having finances tied up in a CCRC.
Colorado Springs Senior Centers
Senior centers are also available in Colorado Springs. They serve an important role in promoting involvement, activity, and enjoyment.
A senior center is a community-based organization that provides social, educational, and recreational activities for older adults. These centers aim to:
Promote healthy aging
Enhance social connections
Improve the quality of life for seniors
Typically, a senior center offers a variety of programs and services, such as fitness classes, art and music classes, wellness activities, educational seminars, and volunteer opportunities. Seniors who are independent and able to care for themselves but may be at risk of social isolation and loneliness may find senior centers a valuable resource.
While senior centers provide a range of valuable services, they are not designed to provide a high level of care or round-the-clock supervision. Seniors who require assistance with daily activities may benefit more from assisted living or other types of long-term care facilities.
Tour a Colorado Springs Assisted Living Community
Age well at StoneCreek of Flying Horse. Get a feel for how you or a loved one can receive personalized assistance in a beautiful environment in Colorado Springs. Our senior living community does not require high buy-in fees, and we offer round-the-clock services. Contact us to arrange a tour.