Alzheimer's is the most common form of dementia. It affects over 400,000 older adults in Texas alone. The number of cases will rise as the population ages.
People with dementia or who have a loved one with dementia do not have to feel alone. Thankfully, many resources are available to help people manage the effects of dementia and live full, meaningful lives. Senior living communities for Alzheimer's care in Fort Worth, TX are one such resource.
In this blog post:
What is Alzheimer's and its effects?
What are other types of dementia?
Frequently asked questions about memory care in Fort Worth.
Where to find dementia care in Fort Worth, Texas.
What is Alzheimer's?
Alzheimer's is a form of dementia that causes problems with memory, thinking, and behavior. It is the most common form of dementia, accounting for 60-80 percent of all cases. Symptoms typically develop slowly and worsen over time, eventually interfering with daily tasks.
No one test can diagnose Alzheimer's. Doctors may use a combination of medical history, physical exam, cognitive testing, and brain imaging to make a diagnosis.
Alzheimer's is not a normal part of aging.
Many older adults living with Alzheimer's experience changes in their ability to plan and remember. This change can be due to plaques and tangles in the brain.
Plaques are deposits of a beta-amyloid protein that build up between nerve cells. Tangles are twisted strands of another protein called tau that builds up inside nerve cells.
As plaques and tangles spread, they inhibit connections between nerve cells, leading to changes in thinking and memory. In the early stages of Alzheimer's, people may have trouble remembering recent events or new information.
As Alzheimer's progresses, they may experience more difficulty with the following:
Language
Problem-solving
Executive function skills such as planning and organization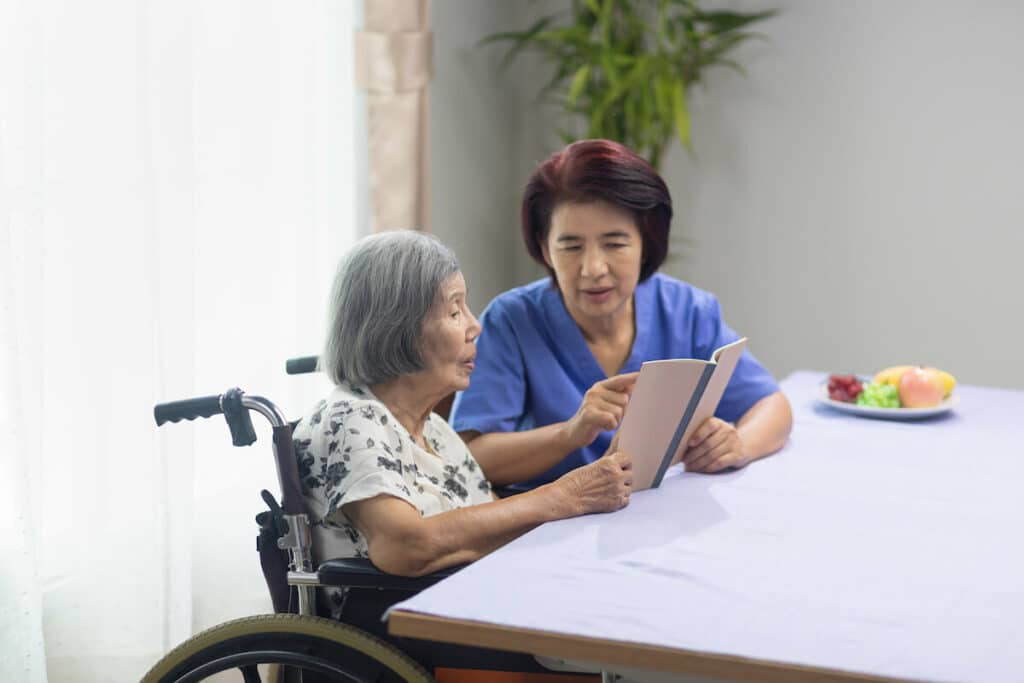 Plaques and tangles can interfere with almost all aspects of thinking and memory. Ultimately it is challenging for people with Alzheimer's to live independently.
Many people living with Alzheimer's continue to lead meaningful and active lives. Advances in evidence-based treatment and support from family members make this a possibility.
What are the effects of Alzheimer's?
For people living with dementia
In the early stages of Alzheimer's, people may develop mild memory problems. With progression, people living with this form of dementia may experience:
Disorientation in new places
Trouble understanding or communicating with others
Feeling lonely and isolating themselves
Mood swings and exhibiting agitation
Wandering and sundowning
Forgetting names and people
People may require 24-hour supervision and help with all daily living activities in the later stages.
For family members
Family members feel the effects as much as their loved ones with Alzheimer's. Over one million Texans provide home care to a person with memory loss. They do not have to go on this journey alone.
Most people are aware of the physical effects of Alzheimer's disease. However, far less is known about the toll it takes on caregivers. The demands of caregiving can be overwhelming, and many family members struggle to cope.
One of the most challenging aspects of providing care is the loneliness and isolation that it can cause. As the disease progresses, patients may become withdrawn and unresponsive, making it hard for caregivers to connect with them.
The constant demands of caregiving can lead to burnout. Caregivers may feel exhausted and overwhelmed and have difficulty balancing their needs with those of their loved ones.
Caregivers often experience a range of emotions, from sadness and frustration to anger and resentment. While caring for a loved one with Alzheimer's can be immensely rewarding, it is also a challenging and demanding journey.
What are other forms of dementia?
Dementia is an umbrella term that describes a decline in cognitive function due to disease or brain injury. There are many types of dementia, but some of the more common forms include:
Vascular dementia: caused by damage to the blood vessels
Lewy body dementia: caused by protein deposits in the brain
Frontotemporal dementia: is a catchall term for various types of degenerative dementias that primarily affect the frontal or temporal lobes
Mixed dementia: typically Alzheimer's and one other common form of dementia
Frequently Asked Questions About Alzheimer's Care in Fort Worth
The Ridglea offers premier memory care services for those living in Fort Worth and the surrounding areas. Our team of dementia care experts provides around-the-clock supervision and assistance with activities of daily living.
Here are a few frequently asked questions about our memory care in Fort Worth, TX.
Do team members receive specialized training?
Yes! Our team members receive regular training in the Positive Approach to Care (PAC). Many team members are PAC Certified Independent Trainers. We utilized the latest research to provide evidence-based therapies for memory care residents.
What is the staff-to-resident ratio?
The Cottage is our secure area for memory care residents. This neighborhood is intimate to accommodate the individual needs of each resident. In addition to a high staff-to-resident ratio, we have a 24-hour team and a full-time, licensed nurse.
What activities do residents enjoy?
Our team supplies purposeful activities every day. These tasks encourage residents to socialize and exercise. Some of our favorite activities include:
Find Dementia Care in Fort Worth, TX
The Ridglea Senior Living provides long-term care for dementia and Alzheimer's in Fort Worth, TX. We are the flagship community of Civitas Senior Living. We take great pride in ensuring that loved ones receive the highest quality memory care and assisted living services.
Our memory care is kept separate from our assisted living apartments in our secure and tranquil memory care environment – The Cottage. Family caretakers can rest assured that their loved one is monitored 24/7 and provided compassionate and personalized senior care.
Visit Our Flagship Memory Care Community in Fort Worth, Texas
Let us answer more questions about Alzheimer's and dementia care. Let our team provide compassionate care. Contact us to get started today.