If you're caring for a loved one with Alzheimer's, you will likely face many challenges. This type of dementia progresses through four stages, and each stage presents new difficulties.
In the early stages, your loved one may be able to live at home with some assistance from family and friends. But as the disease progresses, they'll eventually need more specialized care. That's where memory care facilities and communities like The Grand in Louisville, KY can help.
If your parent is diagnosed with Alzheimer's, you may wonder about their care needs and how to meet them. Here is a guide to the different stages of Alzheimer's and how to navigate finding care near you.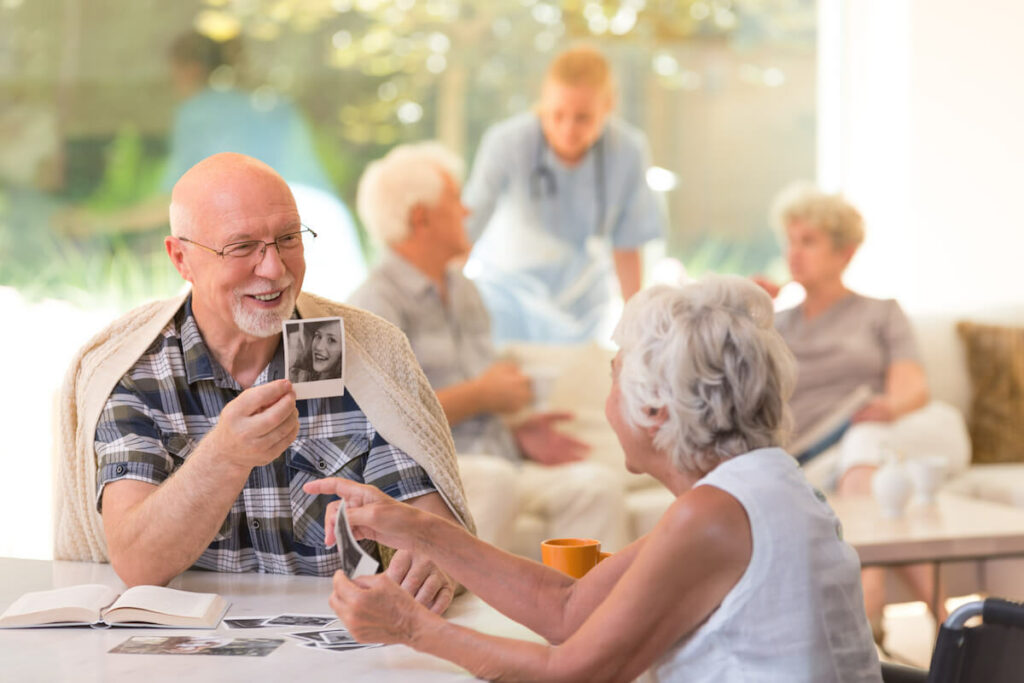 The Four Stages of Alzheimer's Disease
Alzheimer's disease progresses through four distinct stages:
1. Preclinical Alzheimer's
2. Mild Alzheimer's
3. Moderate Alzheimer's
4. Severe Alzheimer's
Preclinical Alzheimer's is the earliest stage. Symptoms can be very mild at this point. Your loved one may not even realize they have any cognitive issues. However, changes are happening in their brain at this stage.
Mild Alzheimer's is when most people first start to notice symptoms. Your loved one may have trouble recalling recent events or memories, and they may begin to experience problems at work or with hobbies they enjoy. They may also have trouble keeping track of bills and payments or managing medications.
At this stage, your loved one may still be able to live independently, but they'll need help from family and friends. If they're struggling to live independently, memory care facilities can provide the assistance they need while still allowing them to maintain their independence.
Moderate Alzheimer's is when symptoms start to interfere with daily life significantly. Your loved one will likely need help with all aspects of their daily routine, including dressing, bathing, and eating.
The moderate stage is characterized by more pronounced symptoms, including:
Memory loss
Confusion
Impaired judgment
Difficulty speaking
Delusions or hallucinations
Memory care facilities can provide 24/7 supervision and care to ensure your loved one is secure and comfortable.
Severe Alzheimer's is the final stage of the disease. Your loved one may lose the ability to communicate and rely entirely on others for their care. Memory care facilities can provide around-the-clock nursing and hospice support at this stage.
When to Seek Memory Care
If you are a family member caring for a loved one with Alzheimer's, it is important to be aware of the signs indicating it may be time to seek memory care. These include:
Increasing forgetfulness or confusion
Difficulty handling finances or medications
Changes in mood or behavior
Difficulty with activities of daily living such as eating or bathing
Increased social isolation
Seeking professional help when these signs appear can ensure your loved one receives the best care and support throughout their journey with Alzheimer's disease.
Caregiver burnout is a natural and serious problem for many family members providing care to a loved one with dementia.
It can lead to depression, anxiety, and even physical health problems. Caregiver burnout is caused by several factors, including stress, lack of sleep, financial worries, and isolation.
If you're providing care for a loved one with dementia, taking care of yourself is crucial. Make sure to schedule time for yourself each day, even if it's just a few minutes. Find someone you can talk to about your experiences, whether a friend, family member or professional counselor.
You're not alone in this journey. Don't be afraid to ask for help when you need it. Memory care can help you and your family.
Where to Find Memory Care Facilities in Louisville, KY
Louisville, Kentucky is home to many memory care facilities offering high-quality care for seniors. Memory care can be found in various locations, including nursing homes, assisted living communities, and specialized memory care units.
Research and in-person visits are the best way to find a memory care program. You're here researching now. That is a great start.
When visiting memory care facilities, it is important to pay attention to the staff members and how they interact with the residents. It would help if you also asked about the facility's size and what amenities and activities are available.
Only tour the community with a detailed list of questions. Ask questions specific to your loved ones' needs to find the best care:
Ask if the community provides a hobby or activity they enjoy
Ask if the community can provide special diets
Ask if the community can provide diabetes care
What is the average cost of Alzheimer's Care in Louisville, KY?
When considering memory care options for a loved one, it's important to weigh all of the factors involved, including cost.
Comparing the prices from caring.com, the average cost of a memory care community in Louisville, KY is $4,375 per month. This cost can vary depending on the required care type and the chosen facility.
Home care ($4,767 per month) may be more expensive than a memory care facility. However, it may not provide the 24-hour support and supervision level that some people with dementia or Alzheimer's require.
Nursing homes provide a high level of medical care at a high cost. Avoid the $8,540 price tag unless your loved one has chronic conditions.
How The Grand Senior Living Can Help
At The Grand Senior Living, we offer a full continuum of care to support our residents through every stage of life. That includes those living with Alzheimer's or other forms of dementia. Our senior care includes:
Independent living
Personal care
Memory care
The Cottage is our evidence-designed neighborhood for residents with dementia. Our memory care community provides a secure and supportive environment where they can receive individualized care from our highly trained, 24/7 team.
Alzheimer's is a complex disease that affects each person differently. Finding a memory care community that can provide the level of care your loved one needs at every stage is essential.
The care team in The Cottage provides support with compassion and patience. Letting residents live in the moment and feel valued is our passion.
Memory Care for Seniors in Louisville
The senior living professionals at The Grand Senior Living are here to answer your detailed questions. Contact us when you are ready to take a tour. We are here to be a resource in your search for specialized memory care.