Meet Memory Care Coordinator, Erinn Mugford
Running a senior living community requires a diverse team of dedicated individuals, each with unique roles and responsibilities. Among these, the dementia care team members play an especially vital role.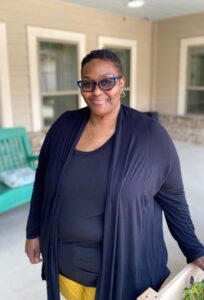 They possess specialized knowledge and skills to provide exceptional care to residents living with dementia.
At Arabella of Red Oak, we are proud to have Erinn Mugford as our esteemed Memory Care Coordinator (MCC). Erinn leads The Cottage, our specialized Memory Care community, with unwavering compassion and expertise.
Memory care jobs are in high demand and offer a rewarding purpose to those who want to make a career change. Continue reading to learn more about working in senior living and Alzheimer's care.
Understanding the Importance of Memory Care
Memory Care is a specialized form of support provided to individuals with Alzheimer's or another form of dementia. These conditions can impact:
Memory
Cognitive abilities
Daily functioning
Memory Care communities are designed to create a nurturing environment that promotes residents' overall well-being while accommodating their unique needs. While standalone Memory Care facilities exist, many are in a secure area of a senior living community.
This benefit allows Independent Living or Assisted Living residents to transition to a higher level of care in a familiar environment.
The demand for Memory Care professionals is on the rise, and with it comes many opportunities to make a meaningful difference in the lives of older adults.
There are more than 6.7 million Americans with Alzheimer's. That figure is over 10 percent of the population over 65.
By pursuing a career in Alzheimer's and dementia care, you can contribute to addressing the aging population's needs, build lasting relationships, and experience personal fulfillment.
The Background and Journey of a Senior Living Professional
Senior living is often referred to as a calling. Many of our Dallas area team members did not expect to be in their positions until a chance meeting. That's the beauty of a career in Assisted Living and Memory Care.
Erinn had previously worked in the service industry and decided to join our community in the culinary department.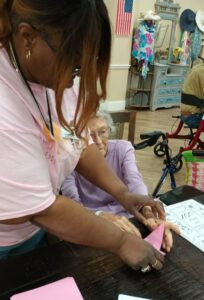 "I applied for a job at Arabella of Red Oak as a cook," she says. "It paid more, but when I was walked into The Cottage by staff, I fell in love and knew it was where I belonged."
Erinn began her senior living career as a Med Aid and quickly became a dedicated and compassionate caregiver. Her exceptional performance led to her promotion as a Lead Med Aid within a year. Two months later, "I applied for and was promoted to Memory Care Activities Coordinator."
Erinn joined Arabella of Red Oak as our MCC in June 2022. Her commitment to improving the lives of residents shines through in all she does.
Why Pursue a Career in Memory Care?
As the baby boomer population ages, the need for senior care workers, particularly in Memory Care, is rapidly increasing. Experts predict the need for 1.2 million more workers by 2025.
It presents a unique and rewarding opportunity for individuals who are passionate about making a positive impact on the lives of older adults. It's more than a career. It's a passion!
1. Growing Demand
The aging baby boomer population has created a significant demand for Memory Care services. It is estimated that over one million additional senior care workers will be needed in the coming years to meet this growing demand.
Choosing a career in Memory Care can improve the quality of life for older adults and their families.
2. Making a Difference
Memory Care offers a chance to make a meaningful difference in the lives of individuals living with dementia or Alzheimer's. As a dementia care professional, you have the opportunity to:
Provide compassionate support
Enhance residents' well-being
Create an engaging environment that promotes their cognitive, emotional, and physical health
"I often receive words of gratitude and thanks from the families of our residents," says Erinn. "When I meet a member or potential family member of a resident, I want to assure them that their loved one is in the best care."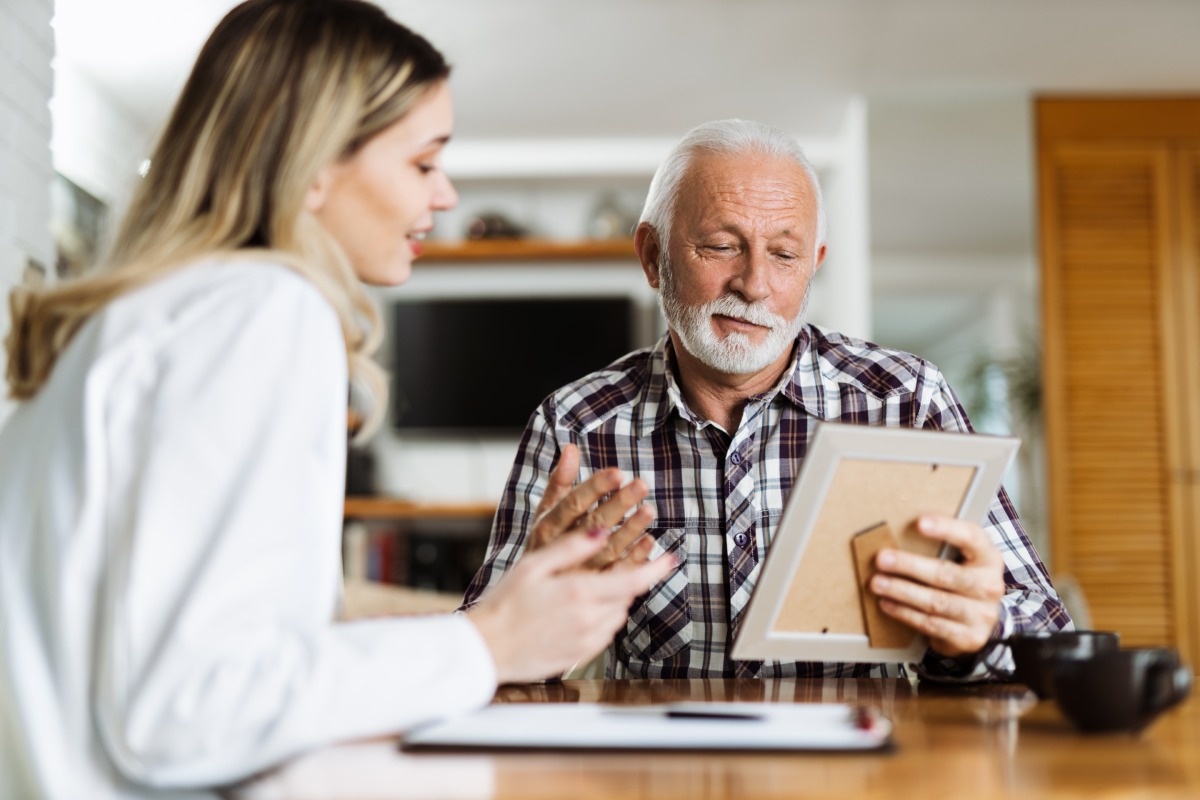 3. Building Meaningful Relationships
Working in Memory Care allows you to form deep connections with residents and their families. You become an essential part of their support system and have the privilege of witnessing their moments of joy, triumphs, and personal milestones.
"Many families have had sleepless nights worrying," says Erinn. "I want them to feel comfortable letting us do what they cannot."
These relationships not only bring fulfillment but also contribute to the overall well-being of the residents.
4. Professional Growth and Development
Pursuing a career in Memory Care offers opportunities for continuous learning and professional growth. As the field of memory support evolves, new research, techniques, and best practices emerge.
"Alzheimer's and dementia can be very scary for those who don't understand them or those who suffer from these conditions," says Erinn. "I continuously strive to learn more and share information so that others can gain a better understanding, just as I have."
By staying updated and embracing professional development opportunities, you can expand your knowledge and skills, becoming an even more effective caregiver and leader in the field.
5. Sense of Purpose
Working in Memory Care provides a strong sense of purpose and fulfillment. Being able to positively impact the lives of individuals and their families during challenging times can be immensely rewarding.
Every day, you can bring comfort, joy, and dignity to those who need it the most.
"I saw that I could make a difference in just one person's life by offering support, unconditional love, friendship, and the extra assistance they needed for daily activities," says Erinn.
Pursuing a career in Memory Care allows you to follow in our Coordinators' footsteps and create a lasting impact on the lives of seniors and their loved ones.
Arabella of Red Oak Team and Family Testimonials
Erinn's impact on the Arabella of Red Oak team and the families of our residents has been truly remarkable.
"It's a wonderful place to work," says one dementia care team member. "Memory Care has a wonderful staff. Mrs. Erinn, the coordinator, is a wonderful lady who cares for our residents."
"I met Erinn prior to my mom moving into Memory Care," says a family member of a resident. "She immediately showed excitement and love toward her before even meeting her. Mom has been here since Dec 2022, and all the ladies caring for the Memory Care residents are incredible!"
Visit Senior Living Near Dallas, Today!
We are incredibly fortunate to have Erinn leading our Memory Care community near Dallas. Her dedication, compassion, and extensive background make her an invaluable asset.
As the demand for senior care workers grows, Erinn's story exemplifies the fulfilling and meaningful careers that await those pursuing the senior living industry. With Erinn at the helm, we can ensure that residents receive the highest level of care and support
Contact us if you are interested in a career near you in senior living.