The Avenues of Fort Bend sits in the pocket of Trammels, Dewalt, Fifth Street, and Sugarland. You'll find luxurious senior care and assisted living deep in the Houston suburb of Missouri City.
Think about heading south to The Avenues of Fort Bend if you're looking for assisted living in Houston, Texas. We offer a robust activities program.
Residents enjoy our vibrant in-house senior activities. Plus, the convenient location to unique neighborhoods such as Trammels, Dewalt, and Fifth Street offers more fun.
The Avenues of Fort Bend is the perfect home away from home. Let's explore why so many Houston seniors choose our assisted living program.
Passionate Activities for Seniors in Assisted Living
The Passion Program guides everything we do at The Avenues of Fort Bend. Residents can choose to do as many or as few activities as they wish. Our Activity Director includes a variety so that everyone can enjoy their favorites.
One exercise class doesn't fit the needs of all residents. Our signature Fit For You classes inspire seniors of all abilities through a dynamic brain and body workout. Best of all, these movements are seated.
Physical activity is essential. But good conversation and competition fill our days with fun. Residents have plenty of opportunities to attend:
Worship services
Movie nights
Bingo games
Puzzle groups
Happy hours
Board and card games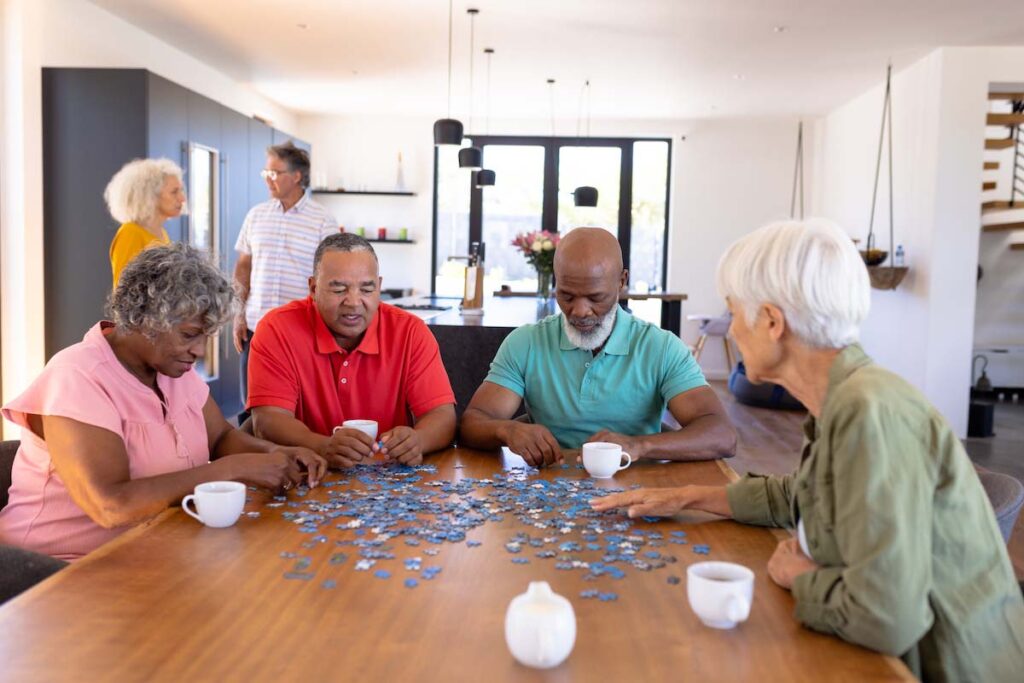 Not all activities for assisted living seniors have to be on a calendar. One of the most significant benefits of our senior living community is the numerous luxurious common areas. It's easy to make new friends and visit with neighbors in places such as our:
Library
Technology center
Dining room and bistro
Theater
Salon
Game room
Art studio
Private patio and garden
We Make Miracles Happen Every Day
It's our wish and pleasure to make residents' dreams come true. Our signature Miracle Moments program is another excuse for our senior living community to celebrate special occasions.
Miracle Moments champion residents' milestones, accomplishments, and goals. We love hosting family members who want to participate in this significant extravaganza. Some of our favorite moments have included:
Community Transportation = More Senior Activities
The Avenues of Fort Bend provides community transportation services so residents can continue their independence. Access to local attractions and appointments is easy with our professional service.
Sugar Land, TX attractions we love:
Houston Museum of Natural Science at Sugar Land
Oyster Creek Park
First Colony Mall
Lunch bunch favorite meals:
Laurenzo's
Lafayette Cajun Seafood Restaurant
Lupe Tortilla
Local medical centers:
Houston Methodist Sugar Land Hospital
Memorial Hermann Southwest Hospital
Houston Methodist Hospital
Our team is here to provide transportation whether residents need additional health care services or a scenic drive.
Finding The Perfect Level of Senior Care in Houston
We provide high-quality senior care at The Avenues of Fort Bend. Older adults can continue their path of independence thanks to our personalized services.
Retirement communities and independent living may not offer the level of care some seniors need. Nursing homes and skilled nursing facilities are generally for people with injuries or chronic conditions. Assisted living and memory care is the type of senior living that is just right.
Assisted living and memory care provide individualized assistance with:
Activities of daily living: bathing, dressing, grooming
Personal care and hygiene
Medication management
Mobility and ambulation
Eating and meal preparation
24-7 response
Our resort-style amenities offer additional forms of care that relieve life hassles:
Housekeeping
Home maintenance
Chef-prepared meals
Scheduled transportation
Pet-friendly senior apartments
Take a moment to tour your new dream home virtually before visiting us in person.
Visit Luxurious Assisted Living
Becoming a resident and enjoying older age is easy. Contact us to arrange a tour of elevated assisted living in an excellent Houston suburb.