Tips From Dementia Care in Fort Worth, Texas
Knowing how to communicate with a loved one diagnosed with Alzheimer's or dementia can be challenging. While adjusting may take some time, some techniques can help make things easier.
The Ridglea provides dementia care to Fort Worth seniors. Our evidence-based approach to memory support involves socialization and communication as a form of care. Here are a few tips from our memory loss specialists on communicating effectively with a senior with Alzheimer's or dementia.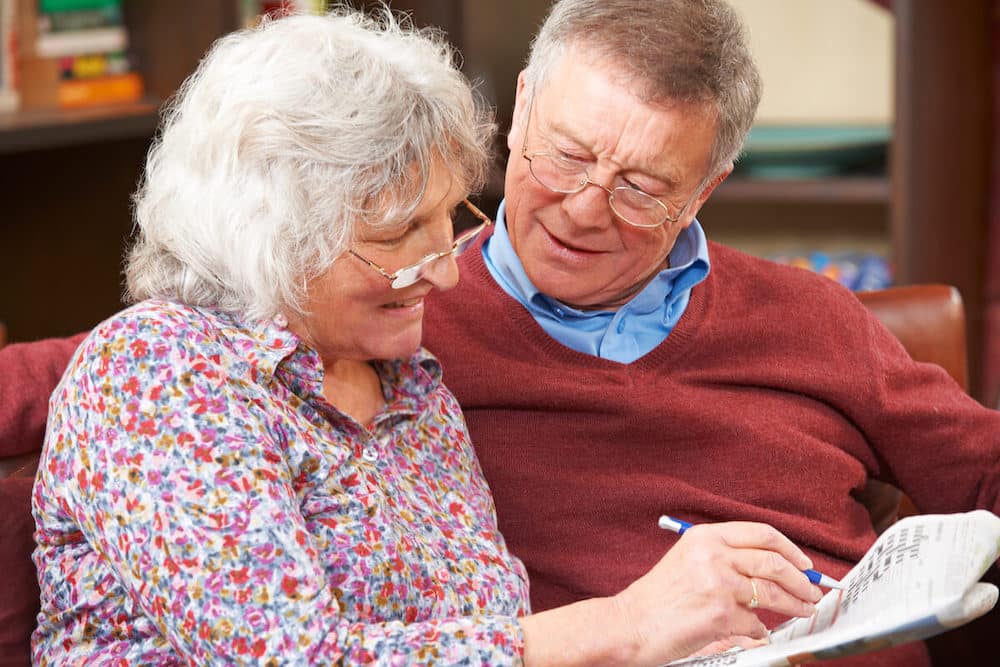 Praise Accomplishments, Big or Small
When a senior with Alzheimer's or dementia does something well, praise them. Applauding them can help boost their confidence and self-esteem. Celebrating small accomplishments is helpful, as they may not have many opportunities to feel successful anymore.
Five ways to praise a senior with Alzheimer's or dementia
Avoid speaking down to your loved one or using baby talk. Show them respect and respond positively to their victories.
Here are five ways to praise seniors with Alzheimer's or dementia:
Compliment your loved one about their appearance. This can be something as simple as telling them they look nice today.
Praise your loved one for completing a task, no matter how small. Things like getting dressed, brushing their teeth, or eating a meal are big wins.
Congratulate your loved one on a job well done, even if it's not perfect. For example, if they've managed to put on clothes, say, "Great job!"
Thank your loved one for helping you with something. For instance, if they hand you a glass of water, say, "Thank you so much!"
Let your loved one know you're proud of them. This could be anything from taking a shower to participating in an activity. Whatever the reason, let them know that you're proud of them and that they're doing a great job.
What should I do if the senior doesn't seem to respond to my praises?
It can be frustrating when the senior you're caring for doesn't seem to appreciate your efforts. However, there are a few things you can do to try to get a better response.
First, ensure that you sincerely convey your praise – seniors can often tell when someone is just going through the motions.
Second, try to find specific things to praise rather than general comments. For example, if your loved one has tried to dress neatly today, mention that.
Finally, be aware of the senior's body language and overall mood. If they are having a bad day, it may not be the best time to praise them.
In general, a little bit of sincere praise can go a long way in making the senior feel appreciated and valued.
How to Help Someone with Alzheimer's Remember Good Times
Reminiscing about good times from the past can help reduce feelings of sadness and isolation in seniors with Alzheimer's or dementia. It can also give them a sense of continuity and connection to their past.
There are many ways to reminisce, so find what works best for you and your loved one. This practice might be a calming way to remind each other you are not only there to provide home care services.
What are some techniques for recalling good times?
Reminiscence therapy is one approach to helping people with dementia and Alzheimer's remember happy memories. This process can be done in a group with friends and family. It's a popular socializing technique in memory care facilities.
The key is to create a supportive environment where the person with Alzheimer's can feel comfortable sharing their memories. The therapist or group leader will guide the conversation, asking questions and prompting the person to share stories from specific periods in their life.
Try incorporating photos, music, or stories into your reminiscing sessions:
Create a scrapbook or photo album featuring images and mementos from past experiences.
Ask questions that focus on specific memories, such as "What was your favorite childhood toy?" or "What was your wedding day like?"
Listening to favorite songs from the past can often bring back forgotten moments of joy.
These recall techniques can help improve mood, reduce anxiety and depression, and promote social interaction. It can also be a way for loved ones to connect with the person with Alzheimer's on a deeper level.
Reminiscing about good times from the past can brighten a senior's day. Talking about happy memories can strengthen your bond with a person with dementia.
If you're unsure what to say, try asking questions about their childhood or early adulthood. Chances are that they'll share stories with you.
Avoid Long Pauses in Conversation
Communication can be difficult. It's essential to keep the lines of communication open by using simple, easy-to-understand sentences.
Avoid long pauses in conversation, and try not to ask too many questions at once. Keep the conversation light and cheerful.
Long pauses in conversation can be confusing and frustrating for someone with Alzheimer's or dementia. To avoid this, try asking open-ended questions that require more than a one-word answer.
What are some techniques for asking open-ended questions?
You can help create meaningful connections and promote cognitive stimulation by asking open-ended questions.
For example, instead of asking, "How was your day?" Try asking, "What did you do today?" or "What did you enjoy most about your day?"
By posing questions this way, you can help keep communication channels open. You may be surprised by the thoughtful answers you receive.
Try these open-ended questions:
What are you looking forward to tomorrow?
Tell me about your favorite (time of year, place, thing to do, etc.)
What's your favorite (flower, color, animal, etc.)?
Tell me about a time when you were really proud of yourself.
Tell me about someone important to you when you were younger.
Change the Subject if Necessary
If your loved one seems to be losing focus, try changing the subject of the conversation. You can also try repeating what you've said before. It's important to be patient and understand that they may not always be able to communicate in the same way they used to.
If the person still does not seem interested in talking, it's okay just to sit quietly together. Sometimes simply being present can be a comfort.
Remember that everyone experiences dementia differently, so there's no one-size-fits-all approach. The most important thing is to be respectful and understanding.
Communicating with a senior with Alzheimer's or dementia can be challenging, but trying your best is important.
Comforting Dementia Care: Fort Worth Hospitality
The Ridglea is a premier boutique community for senior living in Fort Worth, TX. The Cottage is our secure neighborhood designed for memory care.
We intentionally keep the staff-to-resident ratio high to give each senior the attention they deserve. Our specialized caregivers focus on letting residents live in the moment and feel celebrated.
Let memory care in Fort Worth be a gift to your family.
Visit The Ridglea
Contact us to learn more about letting go of your caretaker burden. Let our team do the heavy lifting so you can enjoy conversation with your loved one.