Seniors looking for luxurious assisted living nearby can find a dream home at StoneCreek of Flying Horse. From welcoming amenities to specialized care, our community is the perfect place for seniors to spend their golden years.
But what exactly is assisted living, and how enjoyable is it for older adults?
Assisted living in Colorado Springs is about more than just care. It's about freedom, quality of life, and having the opportunity to stay active in a beautiful environment. Our senior living community provides a wide variety of activities and events. It's how we help residents stay engaged and enjoy life to its fullest.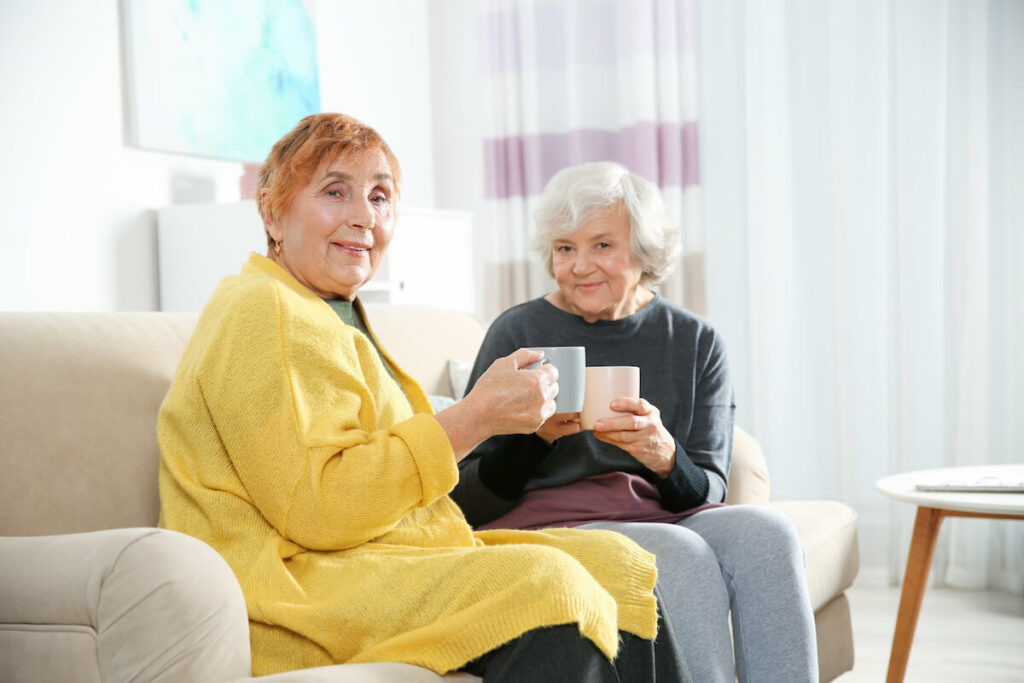 Premier Assisted Living in Colorado Springs
Assisted living is a form of long-term care for individuals who require help with their activities of daily living (ADLs). This includes:
Dressing
Grooming
Eating
Bathing
Mobility
Medication management
Assisted living in our Colorado Springs community also provides social activities and transportation services. We also offer memory care services specifically designed for seniors with Alzheimer's or dementia.
Seniors requiring a high level of care may consider a skilled nursing care facility. StoneCreek of Flying Horse residents are relatively healthy older adults who benefit from our assisted living services.
Learn more about when it may be time for assisted living.
We understand the importance of providing a secure and comfortable environment for residents. We offer a variety of amenities, such as:
Spacious senior apartments
Game room and lounge
Private courtyard
Chef-prepared dining services
Housekeeping services
On-site rehabilitation
Golf course views
We also include activities that range from art classes to exercise classes. Residents can stay active both physically and mentally. We are proud to be one of the few senior living communities in Colorado Springs offering:
Assisted living
Memory care
Staying Wild and Social In Assisted Living
At StoneCreek of Flying Horse, we understand that living in an assisted living community isn't just about the basics. Our team is happy to provide a vibrant, connected lifestyle for residents. We offer various activities and events so seniors can stay engaged in their Colorado Springs community.
Does assisted living near me offer volunteering opportunities?
Residents recently hosted a canned food drive with New Life Church to help supply our local food bank for the holidays. This is a way for residents to be involved in something larger than themselves.
An opportunity to make a real difference in the area gives older adults a sense of pride and belonging. As seniors retire from their professional lives, volunteering provides a great opportunity to stay active and engaged.
Volunteering is about more than connecting with the local community. It's also a great way to gain a sense of accomplishment and purpose during retirement. Seniors involved in volunteering have access to new people, activities, and interests that help keep their minds sharp.
The kindness and thoughtfulness associated with volunteering can give seniors an incredible feeling of unmatched joy.
Does assisted living near me honor veterans?
Colorado Springs has a long history with the military. We honor those who served with our Veterans Wall of Honor.
We recently held a professional photo shoot for some new resident veterans. This wall features pictures of the service men and women who call our community home. It's an incredibly moving area of our community.
Long-term care insurance is one way to pay for assisted living. However, VA benefits can also help cover the cost of health care services in assisted living. We are proud to provide a home for our nation's heroes.
Does StoneCreek of Flying Horse offer local adventures and events?
We love getting out into the community and exploring all that Colorado Springs offers! Our residents enjoy regular adventures to local attractions such as:
Manitou Springs
Pikes Peak Libraries
The Broadmoor
Assisted living residents also enjoy dressing to the nines and attending elegant dinner parties at local restaurants. The Adventurer Club luncheons every last Wednesday of the month are also popular outings.
We even host a variety of special events right here in the building. Recently events like live holiday concerts, hot chocolate socials, and exercise programs have been a hit. A visit with our animal friends from the Cheyenne Mountain Zoo was the wildest yet!
We believe that seniors deserve a vibrant lifestyle just like anyone else. That's why we strive to provide residents with plenty of activities and events. It's fun and excellent for overall health and well-being.
Assisted living offers freedom and an opportunity for seniors to stay active within their communities without sacrificing safety or security. Come home to the type of care you need at StoneCreek of Flying Horse.
Discover Assisted Living Near Me in Colorado Springs!
Welcome to luxurious assisted living at StoneCreek of Flying Horse. Join us to stay active and engaged in retirement living.
Contact us for a tour. Our senior living experts are happy to talk about resources to help cover the cost of assisted living in Colorado Springs.