The Brooks of Cibolo senior living community is home to some of the most beautiful love stories in the San Antonio area. One such story is that of Mr. John and his wife, Jeanette.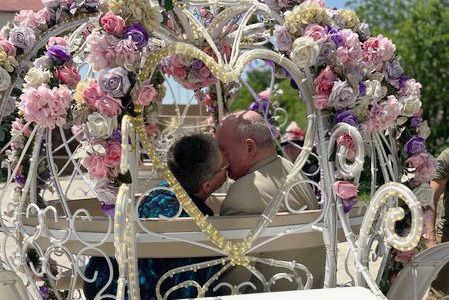 John is a resident in our Memory Care program, The Cottage. He has dementia, and his memory is not as sharp as it once was. However, he clearly remembers one thing: his love for his wife, Jeanette. They both used to live in Lafayette, Louisiana and whenever they meet, they reminisce about their time there.
On the other hand, Jeanette lives on the Independent Living side of the community. The couple doesn't get to see each other as often as they would like. But when they do, it's like they have never been apart. They are a true example of what it means to love someone unconditionally, even in the face of adversity.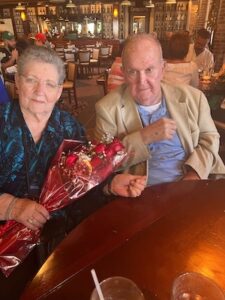 When the team at our Cibolo community learned of John's wish to take Jeanette on a fancy date, they knew they had to make it happen. They organized a "Miracle Moment" for the couple, where they could check an item off their bucket list and pursue their lifelong dream.
John got all dressed up with flowers in hand, ready to see his wife and give her a taste of Louisiana. They went on a horse-drawn carriage ride, and both smiled the entire time. Jeanette felt like a true princess as they rode down the streets of downtown with their valiant steed, Zeus, pulling their carriage.
The love that John and Jeanette share is a reminder that true love knows no bounds. Even in the face of dementia, their passion has not diminished. It's a testament to the power of love and how it can endure even in the most challenging times.
The Importance of Senior Living Options for Couples
However, not all seniors with dementia are as lucky as John and Jeanette. Many seniors with dementia suffer from loneliness, which can significantly impact their mental and physical health. The effects of isolation and depression often result in a faster decline in memory loss and life quality.
Having involved family members is essential. Continuing to love someone who has dementia is critical.
Our Independent Living, Assisted Living, and Memory Care community is dedicated to providing the best possible support for residents and offering various senior living options for couples. Family involvement is a crucial part of care.
At The Brooks of Cibolo, we understand the importance of family involvement, especially for seniors with dementia. That's why we have a comprehensive memory care program, The Cottage, where our residents can receive the care and support they need.
Our program focuses on creating a comforting and secure environment for seniors with Alzheimer's and dementia. We also offer a variety of activities and therapies designed to stimulate their memory and cognitive function. But most importantly, we encourage family involvement.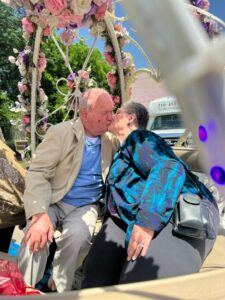 Having family members involved in the care of seniors with dementia can significantly impact their overall well-being. It can help reduce feelings of loneliness and isolation and provide a sense of comfort and familiarity.
At The Brooks of Cibolo, we understand the value of relationships. We strive to create a supportive environment where families can be actively involved in the care of their loved ones. Dementia Live, wellness talks, and support groups are a few examples.
The story of John and Jeanette is a beautiful reminder of the power of love, even in the face of dementia. It's also a reminder of the importance of family involvement in caring for seniors with memory loss.
Discover Your Miracle Moment with Senior Assisted Living in Cibolo, Texas
Contact us to find personalized senior living options in the northern San Antonio area. Experience our resort-style community and tell us about your dream Miracle Moment.