We recently celebrated an amazing woman at Legacy Oaks of Azle named Marguerite, or as we know her, Marg. At 97 years young, Marg has lived an incredible life full of weathering storms.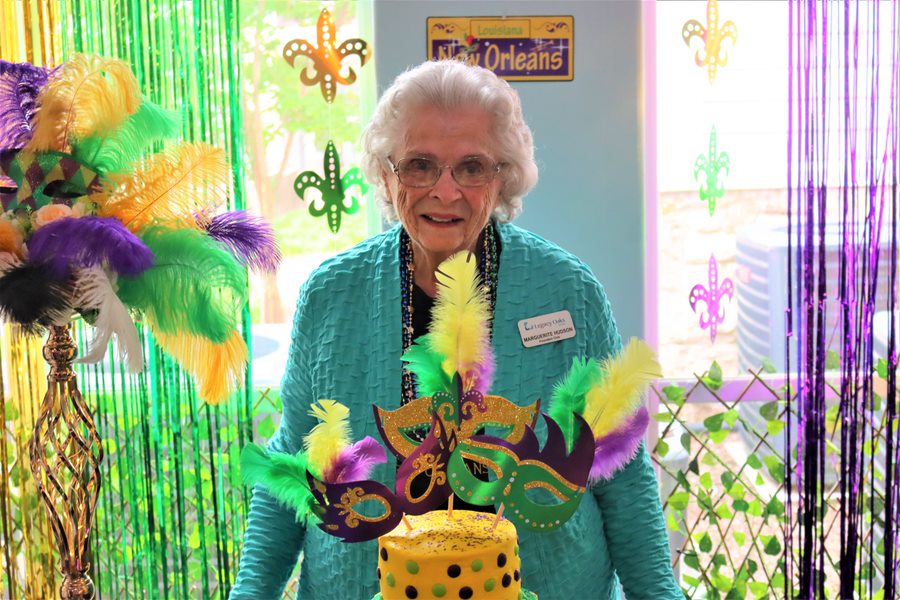 We were thrilled to honor her with a special party as part of our Miracle Moments program.
Marg was born in Mississippi but spent her younger years with her first husband in the vibrant city of New Orleans, a place that holds a special place in her heart despite the challenges she's faced along the Gulf Coast area.
One of the things that Marg and her first husband loved to do was attend the Mardi Gras parade on St. Charles Avenue in New Orleans with their daughters. They always went to the more family-friendly area to enjoy the festivities and make memories together.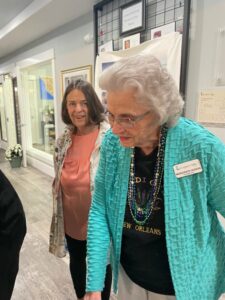 After Hurricane Camille in 1969, Marg and her family lost their home in Gulfport, Mississippi. But they were determined to rebuild and start anew. They were so committed that they even used bricks from their former home to rebuild in Gulfport. This spirit of determination and resilience is a hallmark of Marg's character and has helped her weather many storms.
Years later, at 80, she lived in Gulfport with her second husband when Hurricane Katrina hit. Despite the devastation and chaos surrounding her, Marg proved to be a true hero. She cared for her bedridden husband by holding his hand and praying as the floodwaters rose inside their home and trees collapsed outside.
"It was terrifying," Marg tells Hoopla Magazine. "I just stayed there, facing the hospital bed, and we just prayed. It was horrible. When a big gust of wind would come down the chimney, I was afraid it would cave in on him."
After the storm, Marg moved to Texas to be closer to her daughters. She built another home here in Azle. However, she became a Legacy Oaks of Azle resident four years ago.
Here, she is loved by everyone who knows her. She follows her doctor's orders, including maintaining a healthy diet and exercise routine, and she takes advantage of the chef-prepared meals and fresh food in the dining room.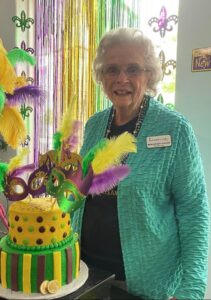 Marg has always lived in custom-built homes that fit her unique needs and preferences. However, since moving to our Azle community, she has found a new sense of comfort and convenience in her one-bedroom apartment. With maintenance-free living and housekeeping services included, Marg can focus on enjoying her golden years without worrying about the upkeep of her home.
For Marg's Miracle Moment party, we went all out with a New Orleans Mardi Gras theme. Guests were offered masks to wear, and we played plenty of New Orleans jazz music. Marg's family shared pictures of her and her loved ones in New Orleans, which decorated the room and added a personal touch to the celebration.
Marg's resilience, strength, and love for life are truly inspiring, and we couldn't be more honored to have her as a member of our community. We hope that Marg enjoyed her party and felt the love and appreciation that we all have for her. Here's to Marg and to many more happy, healthy years to come!
Discover Your Miracle Moment at Legacy Oaks of Azle
At Legacy Oaks of Azle Senior Living, we have the honor of serving extraordinary residents filled with passion, wisdom, and history. Our Miracle Moments program celebrates these fantastic individuals with parties, reunions, and unique experiences. From small moments to large events, we create memories that make our residents feel as special as they are.
Contact us to arrange a personalized tour of your new home.