According to the World Health Organization (WHO), there are about 10 million new cases of dementia each year. Dementia in general terms is a decline in cognitive ability due to disease or injury. Dementia affects people of all ages, but is most common in seniors.
There are several different types of dementia, each with its own set of symptoms and progression. Alzheimer's disease is the most common type, followed by vascular, Lewy body (DLB), and frontotemporal (FTD). If your loved one is living with a form of dementia, The Grand Senior Living provides evidence-based dementia care in Louisville, KY, to help give your family peace of mind. Let's explore the different forms of dementia and how they can be measured for effective treatment and maintenance.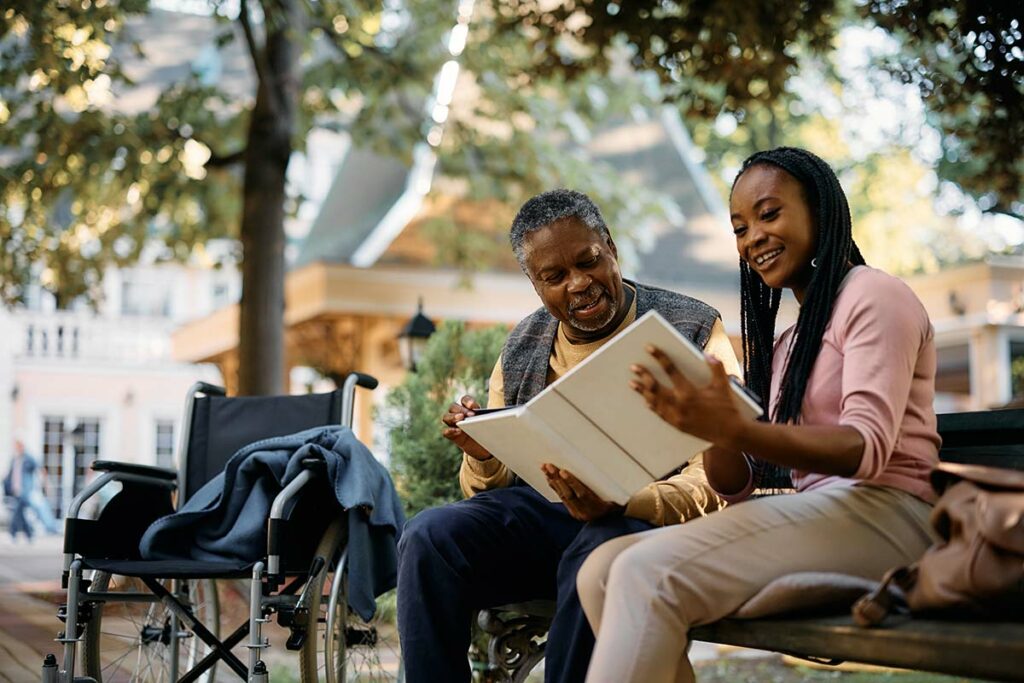 What are the stages of dementia?
Before we get into common types of dementia, it's important to understand the different stages. Dementia can progress at different rates based on the type and the person. However, generally, there are three different stages. The stages of dementia chart below can help you understand and identify each stage.
| | |
| --- | --- |
| Stage | Description |
| Pre-dementia or early-stage | Individuals can live independently but may show signs of age-related forgetfulness. |
| Moderate or middle-stage | Individuals will most likely require part- or full-time assistance due to significant changes in personality, behavior, and cognitive ability. |
| Severe or late-stage | Individuals experience severe loss in cognitive and physical abilities, which may include incontinence, evident memory loss, and mobility issues. |
What are the different types of dementia, and how are symptoms measured and treated?
As mentioned before, there are many different types of dementia. Alzheimer's is the most common form of dementia, accounting for 60-80% of all cases. DLB, vascular dementia, and FTD are the other three notable forms. Other common causes of dementia can include Parkinson's disease, Huntington's disease, and Creutzfeldt-Jakob disease.
Let's examine the four main forms of dementia:
| | |
| --- | --- |
| Type of Dementia | Description |
| Alzheimer's disease | A progressive disease that slowly destroys memory and cognitive abilities. Symptoms usually begin to appear in people over the age of 65. Early symptoms include forgetfulness, difficulty concentrating, and problems with language. As the disease progresses, people may experience disorientation, mood swings, and behavioral changes. |
| Lewy body (DLB) | Includes problems with memory, thinking, and behavior. Individuals with DLB may also experience hallucinations and delusions. |
| Vascular | Arises when there is damage to the blood vessels in the brain. This damage can lead to problems with memory, thinking, and mobility. |
| Frontotemporal (FTD) | A rare form of dementia affecting the frontal lobe of the brain. Individuals with FTD may experience changes in their personality and behavior, as well as problems with language and decision-making. |
Measurements and Treatments
Dementia is diagnosed and measured through a series of medical assessments that can include a physical exam, review of medical history, neurological exam, and cognitive testing. Brain imaging tests like an MRI or CT scan can also help diagnose dementia.
There is no one-size-fits-all approach to treating dementia because of the various forms and how the condition affects individuals will differ. Treatment plans are individualized based on the type of dementia, its severity, and the person's goals and preferences. Medications can be prescribed to help manage symptoms such as memory loss, confusion, and mood swings. Therapies such as occupational therapy, speech therapy, and physical therapy can help seniors with dementia maintain their independence and improve their quality of life.
Evidence-Based Dementia Care: Louisville Senior Living Community Can Provide Peace of Mind
At The Grand, we believe your loved one's best life is found in moments. With an evidence-based approach to memory care based on high staff-per-resident ratios and person-centered care, you can find comfort knowing your loved one will thrive in the secure and loving atmosphere of The Cottage.
Our passionate associates provide specialized care for all phases of dementia and are available to help seniors engage in purposeful activities and programs designed to assist in rebuilding motor skills and connecting to long-term memory.
Dementia is complex and can surface in various ways. While there is no known cure, there are various treatments that can help improve the quality of life for those living with dementia. The Grand offers an evidence-based approach to memory care that features a dedicated memory care coordinator, individualized care plans, and knowledgeable, compassionate associates on-site 24/7. We're here to support you so that your loved one can continue living a life filled with meaning and purpose. Contact us today to learn more about our memory care program.