Navigating Assisted Living in Austin, TX & Using VA Benefits
Service to our country is a noble and selfless act, and as our loved ones age, it becomes our turn to provide them with the care they deserve. It is essential to recognize when it's time to discuss Assisted Living with a veteran loved one.
However, it is a conversation that can be a sensitive matter.
At Ledgestone Senior Living in Austin, TX, we understand the unique needs of veterans and are here to guide you through this meaningful conversation.
Continue reading to explore how to approach the topic of senior living from both the perspective of a spouse and adult children. We will also delve into the benefits of utilizing VA benefits to pay for Assisted Living in Austin.
Honoring Their Service
Before discussing Assisted Living, it's essential to acknowledge and honor the sacrifices your loved one made in service to our country.
Express gratitude for their dedication and emphasize that the conversation about Assisted Living stems from your desire to ensure their continued well-being and comfort.
Once you've expressed your gratitude and admiration for their service, shifting the focus to their current well-being is important.
While honoring their bravery, we must also be attentive to the signs that indicate the need for long-term care services. By recognizing these warning signs, we can ensure our beloved heroes receive the care and support they deserve in their later years.
Let's explore some key indicators that suggest it may be time to consider Assisted Living for your loved one.
Recognizing the Warning Signs
As a senior spouse, you may notice specific changes in your loved one's behavior, such as difficulty with daily tasks, memory loss, or an increased need for medical care.
These signs could indicate that Assisted Living might benefit their overall well-being. Being observant and addressing these concerns with compassion and understanding is crucial.
It can be challenging for adult children to see parents struggle with daily activities. Look out for signs like:
Missed medication
Unexplained weight loss
Forgetfulness
A decline in personal hygiene
These indicators suggest that Assisted Living or Memory Care is worth considering.
Approaching the Conversation as a Senior Spouse
Approaching the topic of assisted living as a senior spouse requires recognizing the limitations and challenges of providing care as we age. By having an open and honest conversation about the benefits of our community, you can create a pathway towards enhanced quality of life for you and your loved one.
1. Find a comfortable setting. Choose a quiet and private environment where your loved one feels at ease. This moment will create a conducive atmosphere for open and honest conversation.
2. Express your love and concern. Start the discussion by expressing your admiration and love for your veteran spouse. Let them know that you intend to explore options to provide them with the support they need while maintaining their independence.
3. Highlight the benefits of Assisted Living. Share information you've gathered about Assisted Living facilities in Austin, TX.
Mention the specialized and person-centered care services, including Memory Care and access to VA health care services. Emphasize the benefits of a supportive community and assistance with activities of daily living.
As a senior spouse, you may face the reality that you can no longer provide the level of support and care your loved one needs.
It's important to acknowledge that caregiving can be physically and emotionally demanding, especially as we age. Over a third, (34 percent) of family caregivers are over the age of 65.
Balancing caregiving responsibilities with your well-being can become increasingly challenging, potentially resulting in poorer health outcomes for you and your spouse.
We understand the unique challenges faced by senior spouses. Our community offers a solution that allows you and your loved one to remain close while ensuring they receive the appropriate level of care.
Through our Independent Living option, you can maintain your lifestyle and enjoy a vibrant community environment while your spouse receives the necessary support in Assisted Living or Memory Care.
This option can alleviate the burden of caregiving. It can create a path to focus on nurturing your relationship as a loving spouse. Our dedicated team of professionals is here to provide:
Compassionate care
Assistance with activities of daily living
Specialized Memory Care services, if needed
We prioritize the well-being of both you and your loved one, fostering an environment that promotes independence, engagement, and mutual support.
Initiating the conversation about assisted living can be challenging, but emphasizing the benefits of our community can help ease the transition. Highlight how this outcome allows you to maintain a strong bond with your spouse while ensuring both your well-being.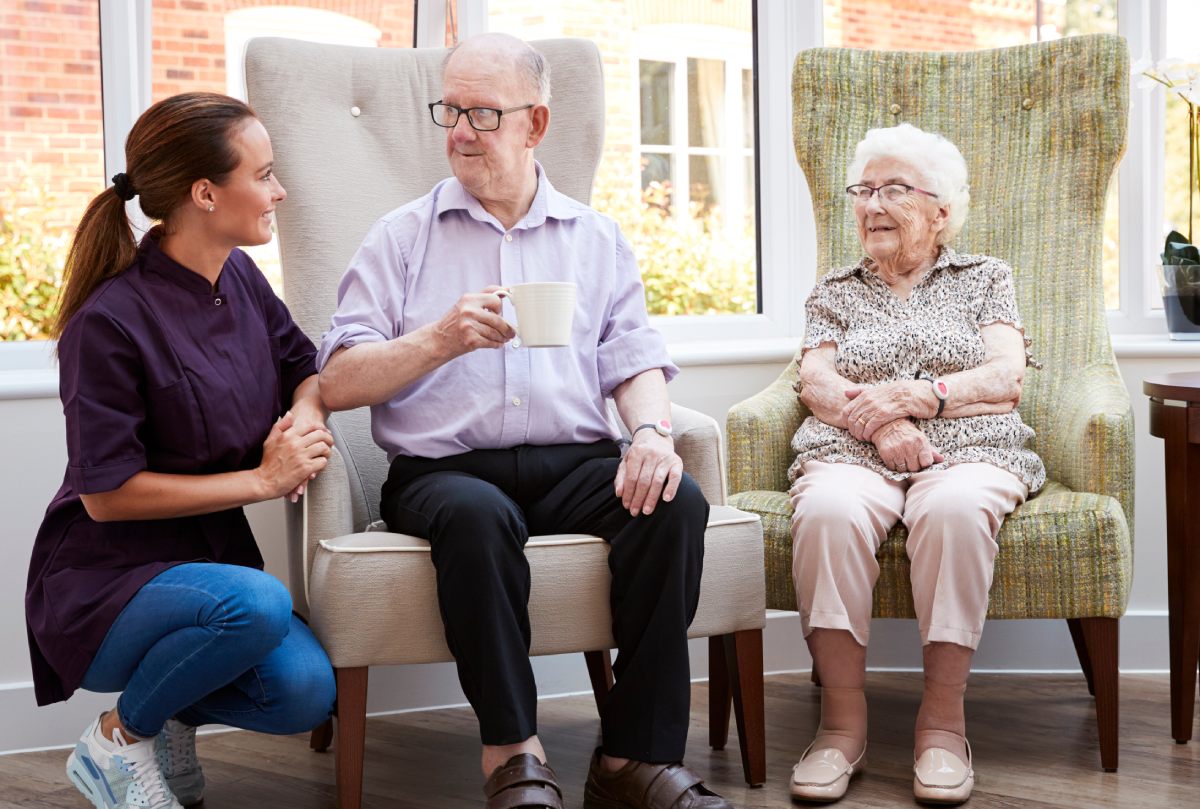 Guidance for Adult Children
1. Show respect and understanding. Approach the conversation with respect for your parent's experiences and emotions. Recognize that discussing Assisted Living may stir feelings of independence loss or fear of change. Be patient and listen attentively to their concerns.
2. Research VA benefits and eligibility requirements. Explore the potential veteran's benefits and eligibility requirements, such as VA pension and veterans senior housing. Ledgestone Senior Living can assist you in navigating the complexities of these programs and guide utilizing them effectively.
3. Share the advantages of Assisted Living. Discuss the benefits of an inclusive community environment for your loved one. Mention that a community like Ledgestone is not a nursing home. Our community fosters independence while offering the necessary support and care services.
Assisted Living and Memory Care communities give residents access to:
Comprehensive health care
Social circles and a sense of belonging
Promoting the Use of VA Benefits
Veterans have unique benefits that can assist with paying for Assisted Living. Look into the various programs provided by the VA, such as the VA pension, to help cover the cost of care.
Our team is here to provide valuable information and assistance in understanding eligibility requirements and navigating the application process.
The Cost of Assisted Living in Austin and Financing Options
Understanding the cost of Assisted Living is vital for family members considering transitioning a veteran loved one.
The average monthly cost of Assisted Living is approximately $5,345 in the Austin area. However, at Ledgestone Senior Living, we offer Assisted Living starting at a lower price.
For veterans and surviving spouses, exploring VA Aid and Attendance benefits can help offset the cost of long-term care. This program provides additional financial assistance to eligible veterans and their spouses who require the aid of another person or are housebound. To apply for these benefits, you can contact your local Veterans Affairs Regional Office or work with a VA-accredited agent who can guide you through the application process.
In addition to VA benefits, there are other ways to finance Assisted Living in Austin. Consider the following options:
Long-term care insurance. If your loved one has a long-term care insurance policy, review the coverage and determine if it includes Assisted Living services. This option can help mitigate the financial burden.
Personal savings and assets. Assess your loved one's financial resources, including savings, investments, and retirement accounts. Consult with a financial advisor to explore how these assets can be utilized to cover the cost of Assisted Living.
At Ledgestone Senior Living, we understand the importance of comfort care and providing a nurturing environment for residents. Our team can assist you in exploring financial options and finding a solution that suits your loved one's needs.
We strive to make Assisted Living a choice for families seeking quality care for their veteran loved ones.
While the cost of Assisted Living is important, the peace of mind and enhanced quality of life that your loved one will experience in our community is invaluable.
Thank You, Veterans: Senior Housing at Ledgestone is Here for You
Approaching the topic of Assisted Living with a veteran loved one requires sensitivity, respect, and understanding. At Ledgestone Senior Living in Austin, TX, we are committed to providing exceptional care services tailored to the unique needs of veterans.
We look forward to celebrating your loved one on our Wall of Honor.
Contact us to learn more about veteran-friendly housing in Austin, Texas.