Are you ready to say goodbye to the chores and hassles of your life? Imagine enjoying the beauty of fall without having to rake leaves. Think about not worrying about shoveling your way out of a snowstorm.
StoneCreek of Flying Horse can take care of all your chores for you! We're a community that helps seniors leave their hassles behind. Welcome to living without burden. Welcome to relaxing and enjoying life.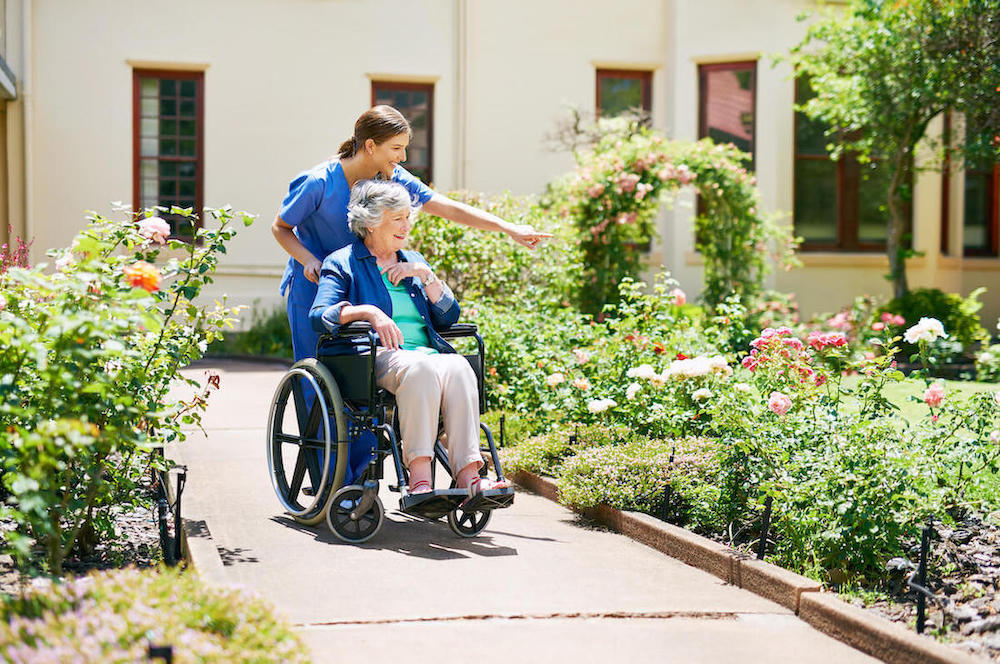 Eliminating Yard Work Help for Seniors
For seniors, one of the many advantages of all-inclusive living is not having to worry about yard work. Landscaping and yard upkeep is a burden for older adults.
Raking leaves, shoveling snow, and mowing the lawn are all physically demanding tasks that can be difficult to keep up with as we age.
Fortunately, StoneCreek of Flying Horse has a team of dedicated individuals ready to take care of these things. Residents can enjoy the beautiful landscaping without having to lift a finger.
It's not just about getting the work done for our team. Our senior living community is immaculate down to every detail. Well-maintained landscaping lets residents stroll around the property and appreciate the beauty of their surroundings.
Pesky yard work help is one more way that all-inclusive living can make life easier for seniors.
Professional Home Maintenance and Repairs
Assuming responsibility for an entire property can be overwhelming. Seniors face this prospect when they retire and empty-nesters after their children have moved out. Suddenly, there's nobody to call when something breaks or goes wrong.
Our independent and assisted living community in Colorado Springs takes care of all the necessary home maintenance and repairs, so you don't have to lift a finger. Our professionals can handle carpentry, electricity, and plumbing.
We can take care of anything from leaky faucets to changing a lightbulb. With us, you can relax and enjoy your retirement, knowing that your apartment and community are in good hands. It's your turn to live a modern and elegant life–let us help.
A Passionate Social Life
One of the best things about getting older is having the time and energy to pursue your passions. Whether taking up a new hobby or spending more time with friends, there's no shortage of ways to enjoy yourself in retirement.
Social activities are an essential part of a senior citizen's life. Not only do they provide a chance to connect with others, but they can also help to keep your mind active and engaged.
Here at StoneCreek of Flying Horse, we offer a variety of social activities for our residents. From game nights and movie screenings to cooking classes and live entertainment, there's something for everyone.
Some of our resident social activities include:
Fit For You exercise classes
Art Throb Club
Green Thumb Club
Happy hour
Outings to nearby restaurants and attractions in Colorado Springs
We also offer opportunities for residents to get involved in the community through volunteering and mentoring programs.
Senior Care at All Stages
Having peace of mind is critical when living independently or getting ready to receive long-term care. StoneCreek of Flying Horse lets older adults live with style and age in place with:
Our team is available 24/7 to answer your needs. Daily care is available from our on-site licensed nurse, and an emergency call system is in place in case of unforeseen circumstances.
Dedicated team members will get to know you and your specific needs. Personalized care is available whether you need assistance with daily living activities or medication management, Rest assured, knowing you're in good hands.
Assisted living in Colorado Springs is an excellent option for those who want to maintain their independence but need extra help with day-to-day tasks. Plus, memory care services are an additional option if your needs change.
A Culinary Experience
Residents don't have to worry about grocery shopping or cooking. At StoneCreek of Flying Horse, we understand that food is more than just nutrition — it's an experience.
Dining room service is available for breakfast, lunch, and dinner. Our community includes multiple dining venues that offer a beautiful setting for any meal.
You will find various bountiful options to choose from, including vegetarian and gluten-free selections. The MINDful Menu offers residents nutritious meals that are good for both body and mind.
Further features of the My Food program include:
My Recipe
My Community Signature Dish
My Birthday Meal
Themed Dinner
Weekly Chef Features
Seasonal Sips
Contemporary Senior Apartments
You won't believe the luxury you can find here if you're looking for senior apartments in Colorado Springs.
Our upscale, pet-friendly apartments offer plenty of storage space, private bathrooms, and a place to receive in-home care. We also provide trash removal and housekeeping services.
Our community is the perfect place to call home, with plenty of amenities. You'll enjoy our fitness center, courtyard, library, and salon. Everything you need is here.
Let someone else take care of your home maintenance and repairs. Get the peace of mind that comes with knowing help is available round-the-clock.
Luxury Senior Living | Colorado Springs
Spend your free time doing the things you love. Senior assisted living in Colorado Springs will give you the freedom to live your best life.
So why wait? Visit us today and start living the life you've always wanted. Contact us to learn more about upscale senior living services for every lifestyle.