Why do seniors in Texas need Memory Care?
According to the Alzheimer's Association, over 400,000 people live with Alzheimer's in the Lone Star State. Another nearly 1.1 million family members are struggling to provide care.
Alzheimer's and dementia care does not always involve care requiring skilled nursing services. Most of the "care" is time spent supervising and calming agitation.
Honoring the lives of loved ones and elevating their quality of life can be a full-time job. Discovering activities your loved one enjoys can eliminate some of the burdens you may be experiencing.
The Ridglea offers Memory Care in Fort Worth that provides data-based therapies and activities to their residents living with dementia. This service relieves families from the burden of expending their time and energy providing care. It's a form of senior living that lets families enjoy quality time with their loved ones.
Why are activities good for people with dementia?
Despite a diagnosis of Alzheimer's, seniors continue to reap the benefits of physical activity and socialization. Activities are also a bit of a "catch-all" term. Besides actual movement, activities can also include:
Passive activities like watching and listening
Life skills like organizing and self-care
Continuing to let your loved one feel accomplished and find purpose is essential. If your senior is uninterested in an activity, let it go. Try something else or circle back to it later. Asking your loved one what they want to do is always a good option.
Points to keep in mind for dementia-friendly activities:
Focus on the process, not the outcome
Live in the moment
Let them express themselves
Make tasks failure-free
What activities are good for people with dementia?
Consider projects, tasks, and exercises that combine some or all of the activities described below. Creativity is encouraged in dementia care, so use these suggestions as a guide to get you thinking about the things your loved one enjoys.
1. Physical Activities for Seniors with Dementia
According to a National Health Interview Survey, just over 20 percent of all adults receive the recommended 150 minutes of exercise every week. Physical activity is good for brain and heart health. In fact, the two organs work together.
Many forms of dementia are related to damaged blood vessels that cannot pump a sufficient blood supply from the heart to the brain. This problem also causes strokes. Getting two-and-a-half hours of exercise every week may not be possible for all older adults, but some movement is better than none.
Try these exercises with someone with dementia:
Tai chi
Walking
Gardening
Dancing
Physical activity has the potential to give your loved one better sleep patterns, but keep in mind to do exercises when your senior has the energy to do so.
2. Social Activities for Seniors Living with Dementia
Activities for people with Alzheimer's and dementia should aim to be failure-free. Find things to do that help your loved one live in the moment and spark joy. At The Ridglea, we do these activities in small groups, but they can be done with family and friends at home.
Consider activities that may trigger your loved ones' memories and make new ones for the family:
Storytelling and recording interviews
Looking at photo albums
Watching home movies or favorite films
Listening to music
Pet therapy
3. Spontaneous Activities for People with Dementia
Living in the moment is a significant way to deal with the ebb and flow of challenges that come with memory loss. Attention spans may not be as long, so coming up with "activities" on the fly can be beneficial.
Household chores like sweeping and dusting can give seniors a sense of independence and purpose. Repetitive movements help with zeroing in on the task at hand. If they're physically strong enough, lite chores (that may or may not be needed) can burn a few calories and make them feel accomplished.
Sensory stimulation can provide relief to agitation and anxiety. Tactile and smelling experiences like folding fresh laundry can evoke memories and create a sense of accomplishment. Digging small holes to plant seeds lets your loved one feel the warmth of the sunshine, hear the birds, taste the fresh air, and feel the earth.
Creative projects may let your loved ones express themselves with the words they cannot find. Painting, knitting, and collaging give people in later-stage Alzheimer's and dementia a voice.
Keeping playing cards or puzzles handy are also ways to stimulate the mind. Organizing cards by suit or untying knots are stimulating exercises that help build new pathways and connectors in the brain.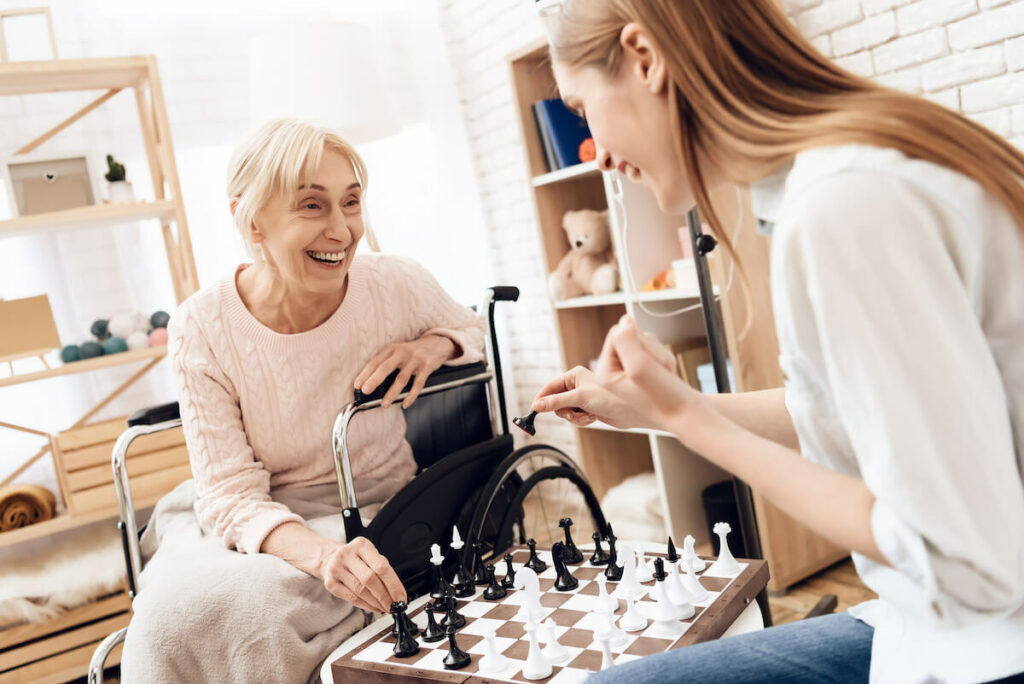 Assisted Living and Memory Care Communities for Seniors With Dementia
Just south of I-30 and Camp Bowie Blvd. The Ridglea offers Assisted Living and Memory Care to seniors looking to live their best lives in Fort Worth, Texas. Older adults receive passionate care services in the privacy of their homes so they can enjoy what our community has to offer:
Grand dining room and chef-prepared meals
Spacious common areas to meet with friends
Fitness room and wellness programming
Movie nights, happy hours, and special events
Game room and art studio
Beauty salon and barbershop
Outdoor courtyards and covered patios
Personalized care plans help Assisted Living residents with activities of daily living like:
Bathing, dressing, and grooming
Mobility and transferring
Medication management
Nurse oversight
Memory care residents also receive these services and more. The Cottage at The Ridglea focuses on living in the moment and using evidence-based approaches to care.
Specialized dementia caregivers form family-like bonds with residents in this calming, clean, and secure environment. We build trust and provide relief from the unique challenges seniors with Alzheimer's and other forms of dementia face.
This form of long-term care allows seniors with memory loss to find purpose and build relationships with others on a similar journey. The Cottage purposefully keeps the resident-to-staff ratio low to offer personalized experiences. Whether your loved one is in the early stages of dementia or beyond, comfort and relief is available.
Visit a Senior Living Community with Dementia Care in Fort Worth
The Ridglea is a resource for seniors and their families. Contact us with questions about activities and senior care, or schedule a tour.