Senior living in North Austin is getting in touch with technology. Tech Ridge Oaks residents embrace a connected lifestyle in our modern assisted living and memory care community.
Technology is helping seniors remain more independent than ever. A device the size of a watch can now provide medication and appointment reminders. These innovations can track health and motivate older adults to reach their fitness goals.
Family members can easily supervise a loved one with dementia thanks to GPS and video monitoring applications. Some devices can automatically alert emergency contacts when the wearer has experienced a fall.
Senior living is an ever-changing industry. Civitas Senior Living communities are all about innovating and disrupting how people think about independent living, assisted living, and memory care. Technology is one way our North Austin senior living community executes that goal.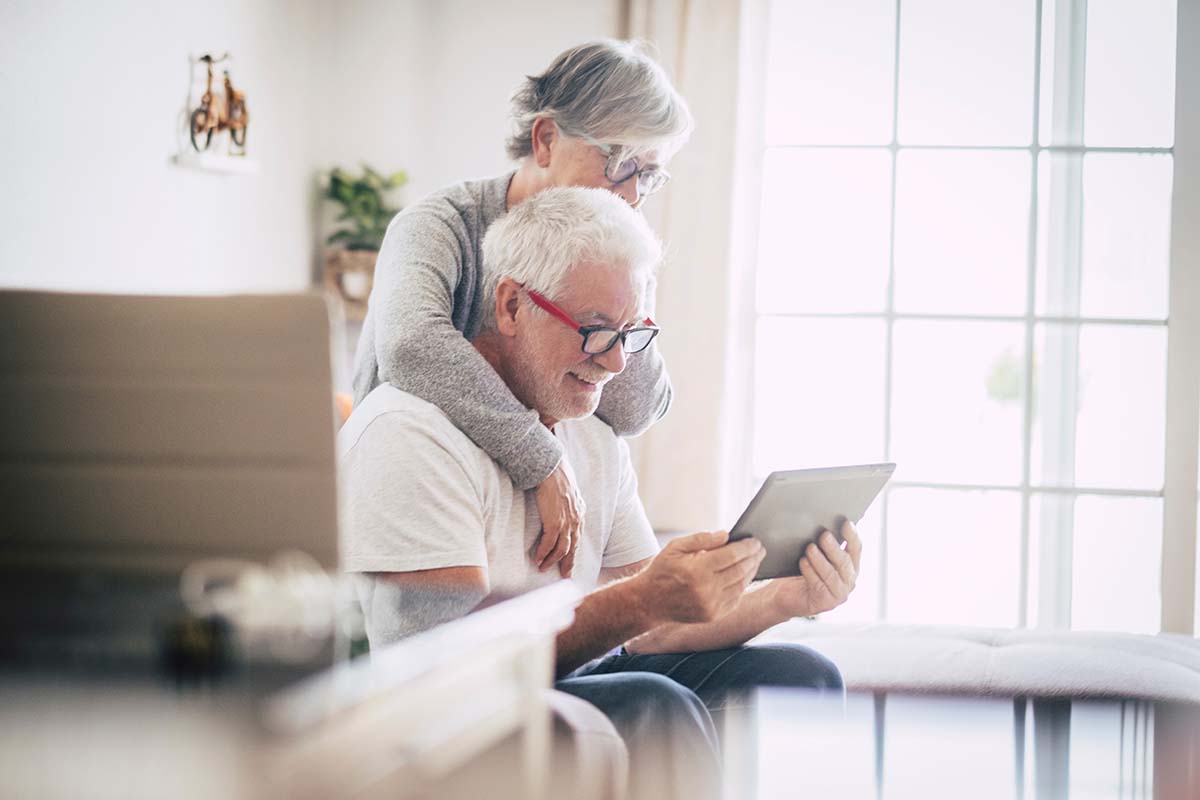 A High-Tech Senior Living Experience
The Sagely App
High-tech senior living in North Austin starts with Sagely. This application connects team members, residents, and families in one easy-to-use process. Sagely helps:
Provide medication management
Complete administrative tasks
Organize resident calendars
Keep families informed
Sagely can use data and automation to provide personalized care for residents. The app can pull up information with a few clicks instead of the need for bulky unorganized files. Team members can easily communicate with each other when a resident's care plan changes.
Residents love using the Sagely app to stay informed of community events. Seniors can RSVP to events they wish to attend and make plans with their friends to join a group walk or game of poker. Residents can interact with the community and family members without worrying about getting scammed like they may on more open platforms.
Family members can see the events their loved ones attend and track any changes to their care plan. Adult children who do not live in the area can stay connected and engaged with their parent's care in real-time. Residents or team members can share pictures of their daily activities.
Dementia Live
Virtual Reality (VR) is changing the way we view the world. VR technology can transport viewers to any location on earth and beyond. Seniors can experience less loneliness by going on virtual vacations and meeting friends and family in almost life-like ways. These devices are helping seniors stay active and engaged.
Programs like Dementia Live immerse family members into what living with a cognitive impairment can resemble. This experience builds empathy and creates stronger bonds.
Dementia Live involves:
Preparation: Discuss the challenges of living with Alzheimer's or dementia with a memory care expert.
Experience: A participant wears a headset that tunnels vision while headphones play distracting noises. Special gloves simulate the loss of dexterity and the difficulty of living with cognitive impairment. Participants attempt to complete routine tasks while in the compromised state.
Empowerment: Family members can discover a newfound empathy for how difficult it can be to live with memory loss, sensory stimulation, and confusion. During these support sessions, relatives can form new bonds with other participants going through similar experiences.
This exclusive experience is available to family members of loved ones who live in The Cottage. This secure and relaxing neighborhood of our building is our dedicated memory care community.
Memory care in North Austin gives seniors with Alzheimer's and dementia the chance to live with purpose. These seniors can live independently at their own pace. Our specialized team members provide personalized care and engaging activities day and night.
Fit For You
Neuroplasticity is the brain's ability to adapt and change throughout our lives. Even when affected by Alzheimer's and dementia, new neural pathways can form around the damaged brain sections.
The easiest way to encourage brain plasticity is movement. Fit For You helps keep seniors sharp with seated exercises that promote the five functions of the mind:
Strategic planning
Memory and recall
Analytical thinking
Creativity and imagination
Kinesthetic learning
Seated exercise lets seniors stay active and burn calories without the fear of falling. The sitting position helps seniors build stamina and strength and improve mobility, balance, and flexibility. These movements are set to music to make having fun a beneficial experience.
Thanks to recent scientific discoveries, programs like Fit For You are an essential tool in preventing dementia by keeping the mind active. It can also help people living with dementia reduce anxiety and improve self-esteem.
Modern and Contemporary Senior Living in Austin, Texas
Connecting smart home devices is easy for the "Techies" of Tech Ridge Oaks. Our assisted living residents enjoy modern comforts like Wi-Fi in their pet-friendly senior apartments.
Ten thousand baby boomers turn 65 every day. Senior living communities need to adapt and embrace this generation's active and connected lifestyle. Sixty-seven percent of older adults use the Internet daily. A third of retirees use tablet devices to find out about significant moments and play games.
One of the best defenses against living with a chronic condition is a healthy lifestyle. Artificial intelligence devices like Google Home or Alexa make receiving reminders to stay active a fun practice. We encourage residents to embrace technology and make it a part of their healthy living journey.
Modern aspects of Tech Ridge Oaks are features such as:
A movie theater
A cutting edge fitness center
Putting greens
Outdoor garden areas
An art studio
A salon
Multiple activity rooms
Tech Ridge Oaks residents keep up on daily activities thanks to the Sagely app. Still, there are plenty of opportunities for people to get together for face-to-face meetings without using technology.
Expertly prepared meals are served three times a day in the dining room. Residents can grab a coffee or snack at one of our casual dining venues. These central locations are excellent opportunities for socializing and community bonding.
Team members provide superior senior care thanks in part to the technology available. Every team member can find out a resident's likes, dislikes, and needs with the touch of a button. Care is elevated thanks to these innovations.
Connect with an Assisted Living Community in North Austin, TX
Become a Techie! Contact us to arrange a tour of modern assisted living and memory care community in North Austin. Stay connected to North Austin senior living and follow us on social media.