Caring for seniors with dementia or Alzheimer's can be challenging and feel overwhelming. Mobility changes are often another aspect of care many family caregivers must consider.
Dementia is a cognitive disorder that affects millions of people across the globe, with Alzheimer's being the most prevalent form. One of the most significant challenges people with dementia face is mobility changes.
These changes can make everyday activities challenging and increase the risk of falls. New Braunfels mobility support services are excellent for rides, but how do you avoid accidents in the home?
Alzheimer's care facilities in Texas are an additional resource to support those who require specialized care. In this blog, we will explore the causes of mobility changes and the importance of seeking professional support.
Continue reading to explore the impact of dementia on:
Mobility
Vision
Perception
Balance
The Cottage is a memory care program at Élan Westpointe. Our Alzheimer's and dementia care program in New Braunfels, Texas helps seniors with dementia maintain their independence. We support autonomy by providing personalized care and mobility assistance.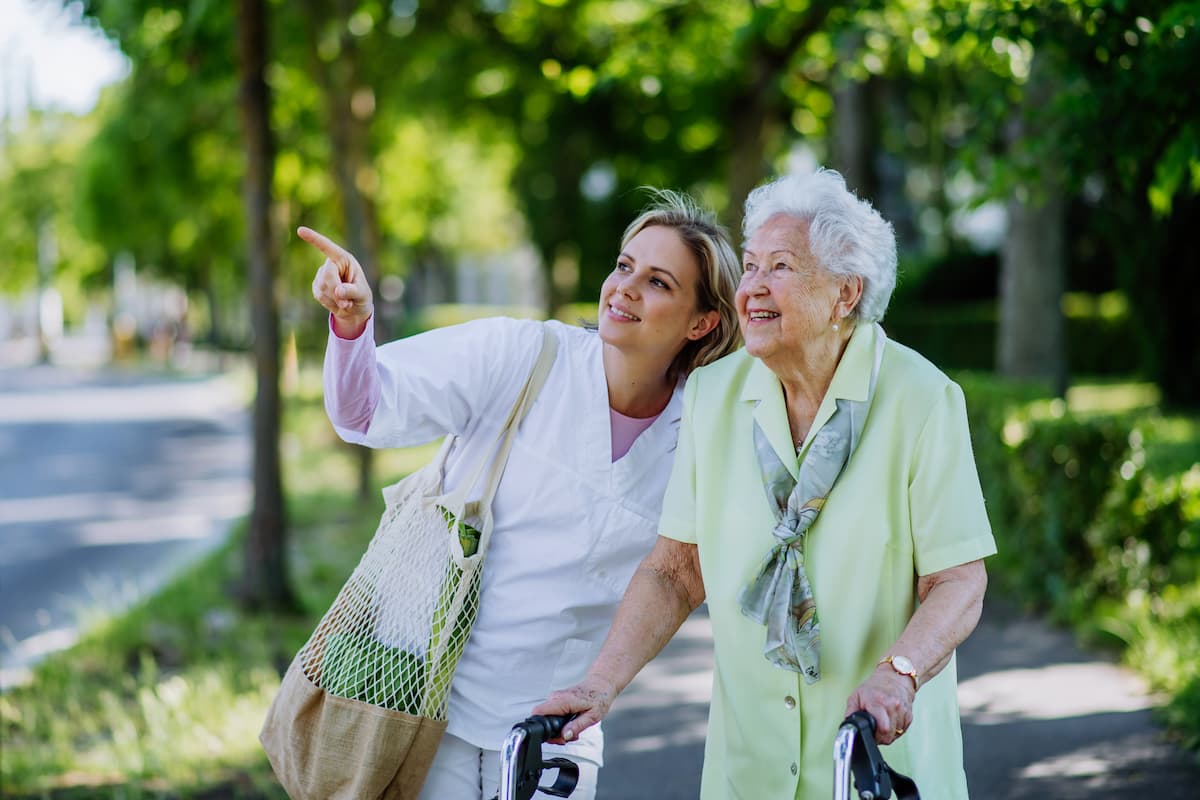 How Dementia Impacts Vision
As dementia progresses, some vision changes may cause your loved one difficulty perceiving their surroundings. Your loved one may experience difficulty:
Identifying objects or people
Trouble reading
Problems with depth perception
It is essential to work with your loved one's healthcare team to explore techniques and resources to help your loved one navigate these vision challenges. Keep in mind everyone's journey with Alzheimer's and dementia is different. Some older adults may not experience all symptoms.
How Dementia Impacts Perception
Perception can be severely affected by dementia, leading to confusion and disorientation. Your loved one may struggle to comprehend their environment, which can result in:
Depression
Anxiety
Agitation
It is crucial to provide reassuring support and redirect your loved one's fear and anxiety with comfort and understanding.
How Dementia Impacts Balance
Dementia can negatively affect your loved one's balance, leading to an increased risk of falls and injuries. Your loved one may also have difficulty performing routine activities, such as getting in and out of bed, walking, and transferring to a chair or couch.
It is vital to create an environment that is easy to navigate and free from tripping hazards. Grab bars and furniture without sharp corners are additional safety precautions for home use.
How Dementia Impacts Mobility
Seniors with dementia and Alzheimer's have complex mobility needs that vary depending on the stage of their memory loss. Mobility challenges tend to become more prevalent with cognitive decline. All the factors explained above can contribute to changing mobility.
Dementia affects different brain sections responsible for cognitive function, coordination of body movements, and sensory perceptions. It can also lead to muscle weakness, stiffness, loss of balance, and increased fall risk.
Furthermore, some seniors living with dementia may experience spatial disorientation. The added condition affects the perception of the environment around them, resulting in:
Confusion
Fear
Difficulty locating objects, rooms, or exits
It is essential to support and assist your loved one to help them maintain their independence and avoid injuries.
One way to support them is by working with a dementia care program like The Cottage at Élan Westpointe in New Braunfels, which provides specialized care and services designed to enhance mobility and physical function.
The Benefits of Personalized Memory Care and New Braunfels Mobility Support
Seniors with dementia can benefit from specialized memory care programs that cater to their unique needs, preferences, and limitations. Alzheimer's care programs are needed in Texas to support the over 400,000 seniors affected.
The Cottage at Élan Westpointe in New Braunfels, Texas, is a Memory Care program that provides personalized care and assistance for seniors with dementia or Alzheimer's. The program offers a range of services, including:
Medication management
Mobility and transferring assistance
Physical therapy
Cognitive stimulation activities
24-hour supervision by trained caregivers
One of the key benefits of The Cottage is that it emphasizes resident-centered care, which means that our team members take the time to understand each resident's history, personality, and interests and tailor their care plans accordingly.
Part of that philosophy means that if a resident is capable, we will support them to do so. We won't push them through the community in a mobility device if the resident can walk. These practices instill independence.
This approach leads to better outcomes for seniors who want to maintain their autonomy and dignity while receiving the support they need. Additionally, the engaging activities and therapy sessions offered in The Cottage can help seniors improve their motor skills, balance, and spatial orientation, enhancing their overall quality of life.
The Cottage is a dementia-friendly environment that provides:
Calmness
Comfort
Reduced agitation
Familiarity
Senior apartments
Personalized care
Maintenance-free living
Chef-prepared meals
Maintaining mobility is essential for seniors living independently, especially in New Braunfels, where public transportation may not be widely accessible. Seniors often require transportation to and from medical appointments, grocery stores, and social events.
Our community provides reliable transportation and mobility services for our New Braunfels residents. Trained caregivers accompany seniors from The Cottage to the doctor's office and back home. The caregivers are available to assist with getting in and out of the car, carrying items, and walking to and from the appointment.
Booking a ride with community transportation is simple, and we look forward to family members helping us coordinate care visits.
Learn More About Supporting a Loved One With Mobility Changes in New Braunfels
If you're looking for a memory care program that prioritizes your loved one's needs, consider The Cottage at Élan Westpointe in New Braunfels, Texas. Discover the benefits of personalized care.